Ria Du Arosa

Suzie Too - Western Caribbean
David & Suzanne Chappell
Sun 28 Jun 2009 12:01
What a lovely Ria, spent a few days at anchor, headed into Proba do Caraminal marina as there was forecast winds of F6+, had 2 nights on the pontoon, the town had the best supermarket we have found yet, so we stocked up with beer, wine and food.  Also lined my cupboards with car reflectors as my cupboards where getting hot inside, seems to work. (Thanks Sally of Cowes for the tip)   Sorry about the delay posting this as cannot find any free Wi-fi.
Friends again in the bay
Next to visit was Villagarcia where we went again into the marina because we wanted to go to Santiiago de Composela which is the most important Christian site after Jerusalem and Rome.  We caught the train at 9.40 the journey took about 30 mins and the return ticket cost 6 Euros each.  We did the typical touristy thing took pictures of the inside of the Cathedral took part in a service, then looked around the street, sat and had coffee at a street café and watched the world go by for a few hours.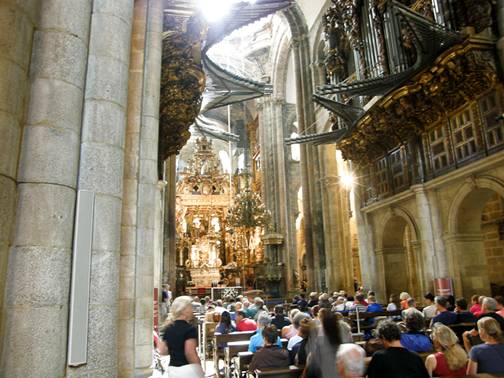 We ate out in Villagarcia that evening as didn't fancy cooking after a long hot day in Santiago, we had the dish of the day 2 course, scrabbled egg and spinach for starter, then choice of Steak and roast potatoes or Place and boiled potatoes all for 9 euros.
Met up with Margot and Harry their boat was moored in Gosport for a while also called " No Agenda", Phil & Norma sailed in the next day on Minnie B.  Also met a great guy called Phil on a steel boat called Ollie, he was working his way down the med, working on boats on route, nice guy and handy to have a round. 
No Agenda
The circus was on in town, he looked so sad..
Next day we sailed out to an anchorage Rianxo, we had the bay to ourselves and we did a bit of sunbathing on the back, then No Agenda turned up and anchored we ribbed over to greet them and ended up taking them ashore where we walked into town, sat and had some beers and totally chilled.  We exchanged our life stories and were happy with each others company as though we had known each other for ages.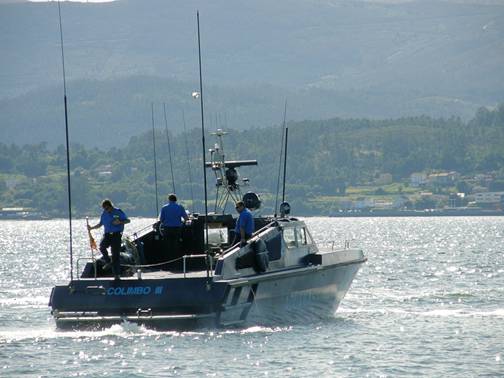 We got boarded by the customs people in the bay for the 2nd time, all papers were correct thank god, they just checked our boat for stowaways when they found none they moved on.
High speed lady
Love to all
Suzanne & David xxx.
---