So it is Cape Verde

Suzie Too - Western Caribbean
David & Suzanne Chappell
Fri 19 Nov 2010 23:02
We left San Miguel Marina on the south of Tenerife on 15 Nov at around 1700, as we were all eager to get going and had returned the rental car, Suzanne & Di had loaded up with final provisions and Steve and I had made some last minute emergency purchases in PC World. The wind was fairly brisk through the acceleration zone, but showed no signs of abating as we waited for 5 boats to come in before making our escape to the open sea and a very bumpy ride for the next few hours with winds at almost 30kts heading south to Mindelo in the Cape Verde islands.
A few boat issues on the way down, a leak in the Water Maker, a charging problem on the 12v battery system (both still to be fixed) a chaff wear on the tack of the main sail (in correctly fitted – thanks Ancasta - which will need to be removed). But the boat sails well, kept us safe and comfortable and handles very well. On the final day into Mindelo we spotted another yacht running under spinnaker and we were wing on wing with the main sail and the yankee, so a quick drop of the main, then wing on wing with the new Code Blue and we never saw him again, although our speed was much the same.
And Notes from Hollie
Hi Guys - I am having a great time but I am missing all my friends. I have seen lots of dolphins they usually put on a show for us at the bow (the front) of the boat. The first two days were a bit rolly but you get used to it. On the third day it started to get really hot in the Tropics. It also started to calm down and by the last day we could sit on the back deck and sunbathe. We arrived in Cape Verdes in the middle of the night and anchored in the bay. Are journey was 820 miles and we did it in five days.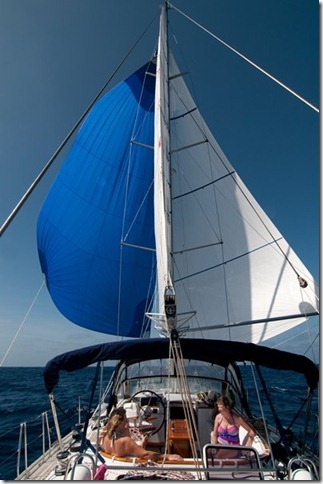 ---