Nazare

Suzie Too - Western Caribbean
David & Suzanne Chappell
Tue 21 Jul 2009 10:47
Motored 35 miles no wind at all.
Nazare is a fishing harbour with good protection from the winds, the marina is very small but Captain Michael Hadley and his wife Sally meet you and help you through the paperwork.
The Captain met us and directed us to raft up alongside a large motor boat as there was no room in the marina, the Police checked our passports on the pontoon then the Captain took us to his office to sort out the ship papers and then he took us to the customs house to see another Policeman, who copied our ships papers again….
Captain M Headley informed us that he is nearly 80 and he will always find a home for an English boat. Nazare is another holiday place, with character and a warren of narrow cobbled lanes running down to a wide cliff backed beach, the beach is packed with colourful umbrellas and local women in traditional dress hacking rooms for rent. We took the funicular up to Promontorio de Sitio where you get a picture postcard view of the coast from clifftops.
Lunch with Robin & John, super couple enjoying life on the ocean, similar values to us we both really enjoyed their company. Unfortunately I think John influencing David towards a Cat lifestyle… I can see the ££££ signs being spent….in David head.
The forecast for the next day was F5-7 and Captain Hedley say we will get a F9 so not sure when we will leave.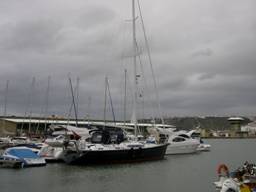 Clouds rolling in first time we have had rain….
Love Suzanne & David XXXX
---