Nassau Town & About

Suzie Too - Western Caribbean
David & Suzanne Chappell
Thu 12 Jan 2012 19:54
Nassau if just full of Cruise Liners, often up to 6 in at one time, but all the tourist Grockles stay downtown and around West End Street, so they are easy to avoid, but unfortunately most of the locals probably put us in the same group. As Bahamians are very religious all the Casinos are on Paradise Island and they are not allowed to gamble or even go inside a Casino. The real Nassau is on New Providence Island with 2 bridges between them, and away from the tourists, but boats ferry them over to the Casinos at Atlantis.
We did some walking, found all the chandlery and fishing tackle shops, down in East Bay Street, rode the buses for USD$1.25 per trip and Suzanne bought a massive collapsible lobster pot – so watch this space. We got around fine, picked up a new dive tank, got the others re-filled and bought 2 new masks at Bahamas Divers, then re stocked the boat at Super Value in Mackey Street. We did happy hour (several times) at The Green Parrot, the yotties favourite drinking hole and got a lovely surprise when we went back to find Patrick on his catamaran Mahesadry that we had sailed with on the RIDS in 2009/10 in the anchorage.
On Tuesday we arranged with a girl from The Green Parrot to take us to re-fill the propane tank and collect Bev from the airport. Except we broke the car – we were just coming out of the gas compound when there was a loud bang and the front nearside of the car dropped. A large pot hole – No, the wheel had fallen off, well the whole drive shaft had pulled out from the gearbox. A Police car pulled up a short time later and asked me if it was my car, but they were really nice. Poor Samantha was distraught as she had no money for the tow truck, so I gave her USD$40 towards it and had to ring Bev, who had cleared Customs and was waiting at the airport to get a cab pick to us up as we were stranded on an industrial park and then ride with her back to The Green Parrot.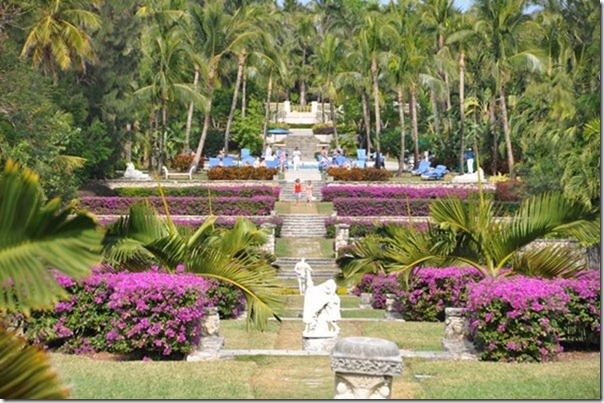 ---