A few notes from the Skipper Ria Du Muros

Suzie Too - Western Caribbean
David & Suzanne Chappell
Sun 21 Jun 2009 21:04
We decided to set off from Ria del Camarinas on Sunday lunchtime, we were a little undecided, as the GRIB and Synoptic showed a F6/7 off the Cape, but with little to no wind on Monday which would mean motoring about 50M. We sprung aggressively off the hammerhead, where we had been bashed for 3 days in F6/7 and got into the fairway, unfurled the Yankee and off out to sea in 25kts downwind.
I had done the nav on the MaxSea and had the first waypoint in the Raymarine, but as we left the entrance to the Ria I went below to finish the nav into Ria de Muros. I was below for probably 15 mins and heard Suzanne say "It's through 30kts – shall we reef"? So I came up on deck and looking astern thought "Holy crap"! – it looked like a picture from the Beaufort Scale images of an F8 – we had well over 30kts gusting 38kts and 3m waves.
But she was going really well, just full Yankee, making 9-10kts and tracking like a train – anyway we donned the lifejackets – and sailed downwind in shorts, tee shirts, sun hats and lifejackets! It really did a lot for our confidence in the boat – she handled superbly – even when we gybed to come around Cape Finistere.
As we headed south the wind gradually died and by late afternoon we were down to 8kts, so hoisted the Cruising Chute an made 5kts in totally flat water – amazing how quickly the waves subsided. We fired up the generator, took turns to shower and rocked up into the prettiest little anchorage north of the Mediterranean – so nothing to pay for mooring – means more money in the beer kitty
See you later
Here are some pictures of the Ria du Muros, which is just lovely, we anchored in the bay for 4 nights (free) had lovely weather, calm seas, the village was quaint, narrow cobbled streets, a few shops, tapas bars then one day we cycled to San Francisco
Just beautiful beaches, San Francisco was a holiday resort with beach bungalows for rent
First dip
Pretty village and harbour for small boats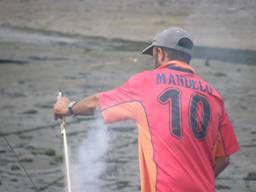 We had a festival while we were there, they let off hundreds of fireworks, bangers, all let off by hand by this man. The boat was covered in ash for 2 days and we were deaf as the noise echoed and ricochet in the bay..
Eating home cooked Calamari's Surrounded one morning in the bay by about 2 small boats fishing
A place worth visiting if you are on this coast, we really enjoyed ourselves.
Also a fluky thing happened, the short story is - we kept waving at the only other English yacht in the bay as we were missing talking to our friend so in the end we invited them for afternoon tea, I baked a lemon drizzle cake, recipe supplied by Nicky Bomby, thanks Nicky turn out lovely. Anyway, we met Norma and Phil, sat down on the back of Suzie Too and we asked them where they were headed, guess what!!!, they are taking part in a French rally the same one as us and they are making their way down to Madeira for October the same as us. Well what a coincidence is that, there are only 5 English boats on the rally and we meet one on route. We had a brilliant time comparing notes on what gadgets we both had etc.
Just couldn't believe it and they are really nice people so we are both looking forward to meeting the rest of the rally now.
Suzanne & David
---