Home of Stars and Stripes

Suzie Too - Western Caribbean
David & Suzanne Chappell
Thu 16 Jun 2011 12:01
Derecktors Shipyard is the yard that built the America's Cup boat "Stars and Stripes" to win the America's Cup in 1987, so Suzie Too is in good hands and at $80 per hour not at a bad rate, we had 3 guys (I think they are all called Tony something Italian) working on the boat today.
All 4 toe rails at the quarters have been removed and they are repairing the GRP now and templating for the new toe rails. She is a good boat, but will be even stronger and when we need a tow by the RNLI or have to stream our Jordan Series Drogue we will be confident the cleats are up to it, even though we would of course tail the lines back to the winches.
It has give me some time to catch up on some jobs, mostly to do with soft furnishings, towel rails, lights, LEDs, coat hooks, clock and barometer etc, so she is feeling even more homely and comfy.
Suzanne has become like a character from Desperate Housewives, we were out out to dinner at a very nice French Bistro on Monday after she had been in every Italian Deli to pick up provisions, although communications are not easy, even understanding the produce is a challenge. Tuesday morning was an appointment at the Hair Salon and dropping in the laundry to the "Iron and Fold" store. That was followed by a new Oxygen Facial on Wednesday then we met for lunch at one of the 3 Sushi establishments in town for a mixed platter of sushi & sashimi. Tonight we are entertaining Ian & Jess, who is Argentinian, from the 76ft Dutch built yacht next door, with drinks and nibbles after she gets back from her Samba workout at the gym. On Thursday Suzanne is off to the Mall for picture frames and towels by cab and nails and pedicure are on the agenda for Monday as apparently it's on special - a half price deal. Then Friday we are on the train to Greenwich in Connecticut to have a look at this pretty town and Saturday we will take the train to Grand Central Terminal in central Manhattan.
The only problem has been today I stabbed a screwdriver almost right through my hand, it made a mark on the inside of the skin on the back of my hand before I pulled it out. Anyway everything still works, just hurt like hell (like a broken bone pain) but we have some antibiotics on board which I am going to take for a week, as it is a deep tissue injury and I could do without gangrene, septicaemia or cellulitis at US Medical rates.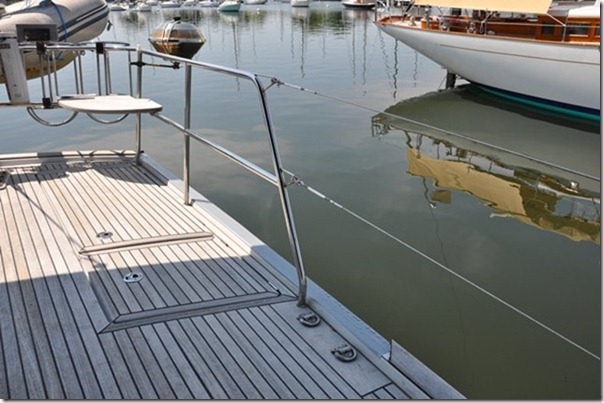 ---