Being underdressed in Hyannis Yacht Club

Suzie Too - Western Caribbean
David & Suzanne Chappell
Wed 20 Jul 2011 22:09
5 miles out of Hyannis, Alice is on the Radio they can see us on the AIS, they were a day ahead of themselves and would be arriving in the anchorage a couple of hours after us, so we had company.
The anchorage was very calm and about a 10 min RIB ride into the centre, we moored the RIB up at Baxter's restaurant and went ashore. Like David said the West Marine rib was crap...the museum was small and biased, but the highlight of the day was our arrangement to meeting Alice at the Hyannis Yacht Club 17.30 for drinks, we were still in shorts and tee shirts as it had been so hot so we dressed casually, again we had trouble getting access as foreigners, but Celia & Andrew finally got the Manager to agree to let us have access for the evening. They gave us a tour of the club, 2 x bar areas, 1 x smart dining area, the deck which was sort of semi posh and then outside on the beach for BBQ.
We opted for drinks first at the ground floor bar and got talking to two members who were Attorneys and who loved England and thought we were mad to be over in the US when the economy was so bad. After a couple of drinks we decided to eat at the yacht club upstairs in the casual bar only to find all the seats were reserved, so they gave us a table in the Commodore's Lounge. We were seated and given menu's and we all felt rather uncomfortable, as the place was very smart, we had walked in off the beach and weren't really looking for a top restaurant meal.
The menu was quite expensive and quite posh and as we were the only ones dressed in shorts we felt totally out of place. Somehow, I was nominated the one to have a word with the manager. I could feel the cheeks blushing, I was so embarrassed (I don't believe it I have never seen Suzanne embarrassed Ed), one not being dressed correctly and one not wanting to pay or eat so much, anyway to my and our surprise they were very accommodating and told us to stay seated and they would give us the outside dining menu inside and told us we were dressed OK for the causal dining area. The evening ended up being great, we all ordered a main course, all were just lovely and we washed it down with a bottle of red shared between the 4 of us, so we were happy, the bill came to less than $94 for the 4. Both Celia and I just wished we had dressed the part, we both have nice dresses on the boat and would of welcomed a chance to get dressed up for a change, this was the first evening meal out since we had left Mamaroneck.
It was about 22.00 when we left the Yacht club and got in our dinghy's, it's now dark, we had no lights with us and we hadn't put our anchor lights on...what fun, lets search the anchorage for the blue hulled boat, luckily there was a moon and after 5 mins we spotted her and Celia & Andrew found Alice further up the anchorage. Why don't we have solar anchor lights so then as soon as its dark she is lit up for everyone to see. We always mean to leave a torch or head torch in the RIB but like always when you need it, it's never there!!!
Next morning, 9.30 coffee on Alice, David did some Reiki on Andrew as he has pulled his back, then off to the beach for a walk around to Hyannis Port to see the Kennedy Homes (mansions really) all inside the breakwater along the beach frontage, what a superb spot, but got better view by driving by in the yacht. By lunch time we were back on board pulling up the anchor and hoisting the sails for the sail back to Martha's Vineyard only 18 miles. We have a dinner date with Destiny, Chrissie and Rich from Chappy (Chappaquiddick) who we met and socialised with in Bermuda.
(Then it's back to Chappy and another J Class with Velsheda running downwind at 12kts with her support vessel following heading for Boston according to her AIS, Ed)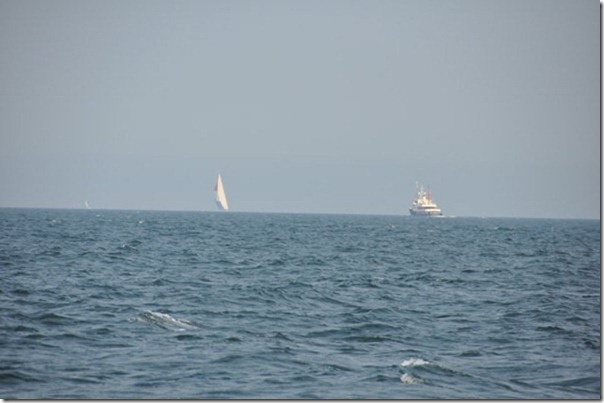 ---