Transat - Day 14 13.15.75N 59.39.00W

Suzie Too - Western Caribbean
David & Suzanne Chappell
Thu 9 Dec 2010 11:40
Our final day - with a sort of half night at sea tonight, not necessarily a
full watch rota, we just need to evaluate the arrival time and then stay on
deck as we float the final few miles into Barbados. We will head round the
north of the island to be in the lee of this easterly wind and hopefully get
a quiet night's sleep.
This morning a bit of excitement, we saw speeds of 13-14kts SOG, but after a
while I became suspicious. A bit of investigation showed the Raymarine
calculating 4kts current - highly unlikely. The next thing is to check the
GPS status - 11 satellites in view, tracking 8, so that seems OK. Next go to
the Emergency Grab Bag and fire up the Garmin handheld, speed is confirmed
as 9kts SOG, but we have a 1M error on both the Lat & Long position -
interesting. So I checked the WGS1984 Datum and the WAAS Differential GPS -
all OK - anyway after about 15mins it corrected itself, so not sure if we
had our first ever GPS timing glitch - most unlikely, cos the Garmin was
fine - just think the Raymarine got upset after being switched on for 2
weeks.
Bit of a shame after 2 weeks we had a crash gybe, yes of course we were
using a preventer for exactly that reason, but the shackle blew out and the
main came initially to centre then across as the shackle blew in 25kts of
wind - bit of a bang, but no damage done - see piccie ! I guess one in
5,000M is not a bad statistic, so back to the drawing board on the shackle -
obviously not up to the job.
In the end it chaffed halyards, broken shackle, a blown tack on the main and a tear near the clew on Old Blue - the
batteries are fine, but wet batteries are just not up to the cruising life, then
just a small leak in the high pressure side of the water maker - otherwise
all OK
See you in Barbados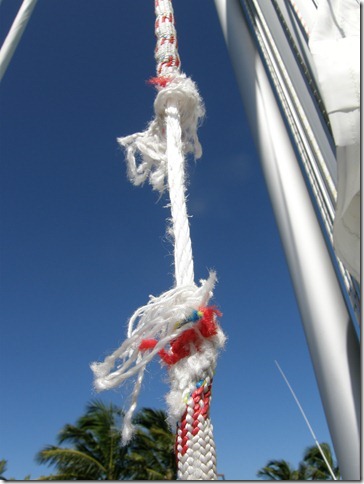 10M to Bridgetown, Barbados - by Taxi about BB$ 50 or £ 15
Suzie Too Crew
Farr 57 Transat Team
---