Lithuania - Klaipeda

Suzie Too - Western Caribbean
David & Suzanne Chappell
Sat 9 Aug 2008 16:32
Well another country arrived in Lithuania after an 11 hours, we sailed all the way 20-30 knots winds and big seas, swells of up to 3metres. Quite unpleasant journey as it very uncomfortable to go down below for anytime even for a toilet break…just before the harbour entrance I was down stairs on my way back from a break when I was tossed up in the air and thrown across the boat from one side to the other. I sat dazed for at least 10minutes crying as everything hurt and I thought I had broken my arm. I was totally shaken up and had a huge tennis ball swelling on my left arm within an hour, luckily it was only badly bruised. I used Arnica cream on it liberally over the next few days to keep the bruising down it just blended in with the yellow suntan on my arms.
Our first sight of Lithuania was of industry, lots of cranes and a huge dock yard and concrete wall which was the marina. With huge ships passing up and down every 10 minutes, passport control did not want to see us so we moored up on the wall. Not a very eventful evening as I cooked up a bowl of Spaghetti with one arm, had a hot shower and went straight to bed, sleeping until 10am the following morning. I woke up and felt like I had been hit by a bus, eventfully I got going and we caught the ferry over to the mainland and town to do a bit of exploring, but again a lot of poor elderly people trying to make ands meet which was upsetting. The language was also a barrier as they didn't speak any English only Russian or German. I bought as much local food off the markets as I could to help these people.
Then to cheer me up David took me to a restaurant on the main square and treated us to a posh beef lunch (first red meat we have had in ages as its all been pork or herrings) and we watched the Olympic games on the widescreen TV all washed down with a lovely bottle of red wine. I had to get feeling better as we had a long sail in front of us of 124 miles to Poland.
The concrete marina wall on steel posts and town in the background
Rows of old people selling potatoes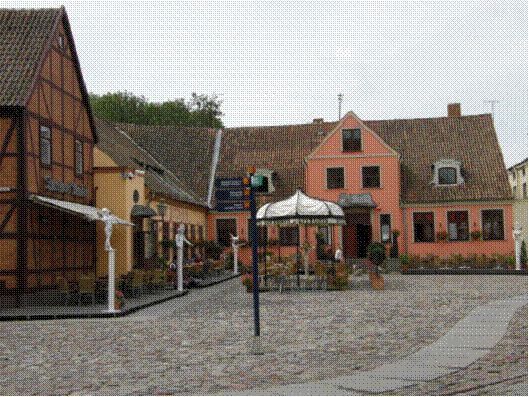 Main square in the old town and where we had the posh lunch
Felt guilty at taking photos of the poverty and the people, looking forward to moving to Poland and Gdansk.
Love to all
Suzanne & David xxxx
---