Tortola BVI 18.27.500N 64.32.000W

Suzie Too - Western Caribbean
David & Suzanne Chappell
Wed 29 Feb 2012 16:31
A couple of things I forgot, coming out of Samana Bay from the Marina da Bahia in the Dominican Republic we saw Humpback Whales, they migrate through the Mona Passage (between the DR and PR up to Silver Bank). We saw 3 different groups the first at about 1 1/2M and then at 1M, which was probably OK as they are much bigger and heavier than we are. I saw the first one breech and thought that that's an odd wave break, I checked the charts for a reef, and then saw the next breech and called to the others – too far away for photos – sorry.
The other thing you will have noticed on the yankee photo is how dirty the leech on the sails are, I don't understand why and nor does anyone else but they have glued the UV strip onto the sail and the glue has gone very sticky and collected dirt. The rest of the sail is perfect and very clean, so when we haul out we will fit a normal Sunbrella UV strip, the only advantage I can think for the glue process is that it makes the leech very hard and less likely to flutter. Anyway we have now done 14,000M so I guess that's more than 14 years sailing for most boats so they can have a bit of TLC over the summer in the North sail loft in Antigua.
Anyway back to the story - After 2 nights at anchor in White Bay we left Jost van Dyke at first light, having had wind from the south east for days needed to go north east we expected a reasonable sail, but the wind had shifted north east overnight, our heading was 075 and the wind was from 078, so we battled up wind and current again, until a squall hit us with 35kts, we put 3 reefs in the main and then gave up and motored.
Then just as we settled down, talk about deja vu – the other dinghy bolt sheared, again saved by the safety strop and when we arrived and furled away the stay sail it too had torn its leech tape and now needs a repair. It was bowing a bitch when we arrived in Trellis Bay on Tortola, but we anchored, fixed the dingy bolt and headed for Marina Cay and Scrub Island Marina in the RIB.
It seems this season has been very wet and or windy in the Caribbean, we have friends in Grenada that say it hasn't stopped raining and everyone is fed up with the bloody wind – every day it just beats you up – tough on the crew and tough on the boat. So for the rest of the season we are going to use Suzie Too as a floating apartment, park her in a marina and leave the AC running and pop to the beach every afternoon for lunch and a swim – just like normal people.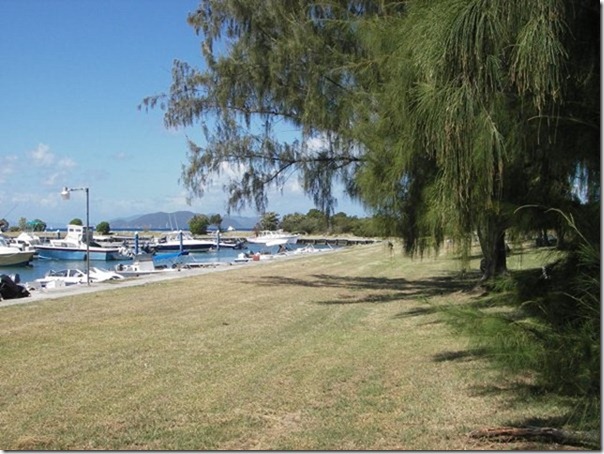 ---