Properly Dressed 41.27.800N 070.35.050W

Suzie Too - Western Caribbean
David & Suzanne Chappell
Sun 24 Jul 2011 22:02
For once we got reciprocity at the Edgar town Yacht club, so we booked dinner for 6.30, that's the only time they had left that evening….
I was looking forward to having time to get dressed up as it's a formal dining room, with jacket and tie for men etc. Had to go to Jack Wills to buy a tie for David. But all went to pot, after such a storm and downpour, when we had left the forward hatches open and also our hatches over our bed, the boat was awash with water. We had 1.5 hours before the meal to strip the boat and bedding off the beds, the mattresses were even wet through. I pegged all the sheets outside as it was now lovely and hot but the only trouble the humidity was through 96% so it was impossible to get fully dry. It was a rush.
The time came to get ready and the hair would not go right, i put makeup on for the first time for a while and my dress on, I was still pleased with the results I could still look and feel good not like a sailor if I tried. Next into the RIB as we had to dingy ashore, the sea had still not settled down, the hair was now back to its normal windblown style and the dress, luckily it was splash proof. I think we will be getting a bigger RIB for the next season.
The dining room was quite formal and busy, we had a lovely waitress for the evening and she loved our accents and loved London… We had a starter of Oysters and Beef tenderloin with asparagus for our main course all of course washed down with a bottle of red wine. I had a glass of champagne with my starter and helped David finish the Red with my steak, both dishes were very good. We even had the naval officers arrive at the dock in all their whites, they were sailing around the islands in competitions for the summer season, all very nice young lads. They reminded me of my wedding night when David dressed up as a Naval Officer ….what a romantic!!
On our way back to the boat, I had remembered the torch and cloth to wipe the seats, it was typical the dingy ride back to the boat was flat calm…
Sunday morning after a leisurely morning, speaking to Helen and Andrew, they both have had great holiday's we moved further round Martha's Vineyard to Vineyard Haven where we will spend a few days before we go to Newport, Rhode Island.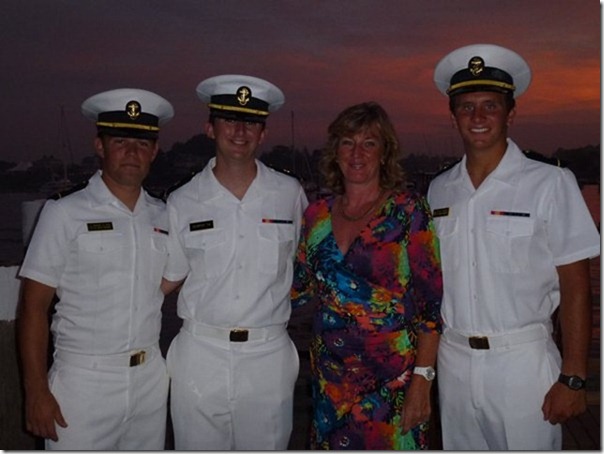 ---