Decision from a rock in the South Atlantic

Starcharger
Fri 31 Jul 2020 17:04
We came to St Helena for 10 days, and have been here more than 20 weeks so far...
Plans have been made, changed, remade, thrown out and started again. Still we are in no way certain what will happen next. However we have made a decision that has caused a radical rethink.....
For those of you not on Facebook, we have bought Guiding Light. She is a 1936 Gauntlet 12 tonner, wooden and beautiful, see below. I first sailed on her five or six years ago in Antigua Classics, with Roy who was sadly lost at sea a couple of years ago. She is on the hard in St Lucia where she has been for a couple of years.
The broad plan is to sail from here, via Ascension and Barbados to St Lucia. There we will spend time getting her into a fit state to put back in the water and sail both boats to Antigua for Classics 2021... Quire a tall order but assuming the world opens up we can do it....
We will, I very much hope, fly home for Christmas and spend a month in the U.K.
It appears to me that there is quite a number of tropical storms rolling into the Caribbean at the moment. We have therefore decided not to risk getting there too early. In addition most of our friends that we were hoping to see in St Lucia are not planning on being there!
So the aim is to leave St Helena mid September, but that may change.
Fair winds
Alasdair, Gill, Carmen, and Josh
Roy at the helm, sailing off Grenada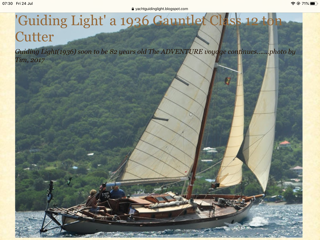 +290 64710 St Helena mobile phone
+44 (0) 7710 197949 British mobile phone
+870776 764870 Inmarsat satellite phone
+881632 683990 Iridium Go
Sent from Alasdair's iPad 6
---