New Year arrives in the Exumas

Lynn & Mike ..around the world
Mike Drinkrow & Lynn v/d Hoven
Wed 3 Jan 2018 00:18
24:11.61N 76:27.30W New Year arrives in the Exumas
We celebrated the end of 2017 and the start of the new year with friends on Time2 - another perfect evening at Big Majors. We took down the dinghies and set up a bar, snacks on the top deck – first time we have tried it, and it was a great view. Many of the yachts in the anchorage had parties and between the SuperYachts and the resorts close by, we had 3 fantastic fireworks displays.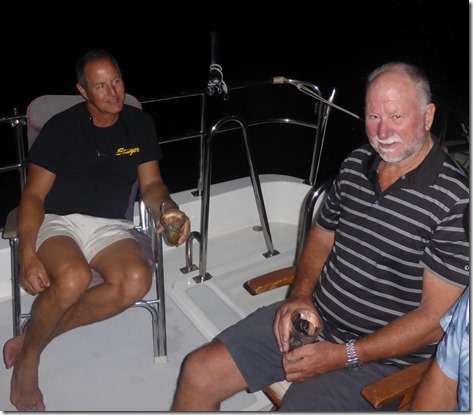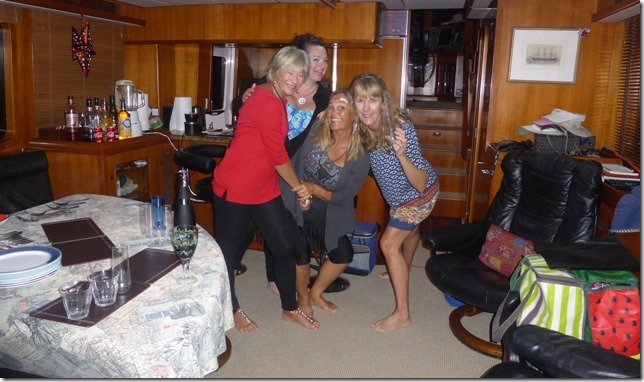 There was to be some yacht racing on New Years day, but the weather was so calm, that all was cancelled. We decided to go on a snorkelling/ hunting expedition on Time 2 and took along the guys from Shiloh, AlleyCat and TexasTwoStep. I was the only gal, but as a keen diver, can keep up with most of the guys. The sea was flat calm and visibility was excellent – but the fish elusive. We did however catch some crayfish. What a lovely start to the new year. Here are Mike and I in our "superhero suits" ready to hunt.
Within a few days, our friends were scattering south, while we stayed on a bit longer. And then the weather changed and winter in the Bahamas arrived! While the water remained fairly warm, the air cooled down and we had a lot of wind. From all directions.
With one westerly storm approaching we moved over to the "between the Majors" anchorage – and what a nightmare that was. Its a difficult anchorage due to a strong tidal stream, but offers the best protection for this westerly blow. Most yachts chose their spot and were settled in by mid afternoon. But close to sunset, an idiot with a go-fast 75 foot motor yacht arrived.
He tossed down his anchor right in front of us, in an area of poor holding. On board were a few families with small kids, who immediately headed out in their dinghy for some fun.. We were gobsmacked, the wind was already picking up. Staniel Cay Marina closes down when a westerly blows, as it is too dangerous to stay – for the docks and the yachts. So now you have the situation where a rich guy has a yacht: Quite possibly he is very good at parking at a marina, but he has poor experience with anchoring. And sometimes, may not have appropriate ground tackle to handle difficult conditions. These belong to a tribe we we call the "Weekend Warriors"
As the wind picked up, Mike got concerned, and with another skipper, dingied over to this yacht trying to help them with the situation. They needed to move to a better spot, more appropriate for their size and the conditions expected. But of course that did not work. And so the fiasco began.
They put out a second anchor, virtually on top of their first inadequate one, which was on very short scope. Then they had two guys in scuba gear either trying in set the anchors or trying to unwrap them...or both. The wind was now picking up and the sun had gone down. If they dragged they could hit us, or the boat behind. We could not move, it was too late and the anchorage was full – this guy had to go. And the inevitable happened... he started dragging – luckily he had his engines on and drove forward to avoid a collision. Then he started moving further in front of us, in a narrow area, looking for a new spot to anchor with a search light. Mike got on the radio and very clearly told him to move on. Next he was on the other side of the anchorage, nearly running aground. Finally, now completely dark, they took off out the cut into the open ocean towards Cambridge Cay. Other yachts in the anchorage saw life-jackets being handed out (Good thing!) And then they were gone and we were so relieved. Later we heard on the VHF that they arrived at Cambridge Cay and caused all kinds of chaos there.
Trying to set an anchor with a dinghy with scuba gear & a dinghy
By the next afternoon the worst was over and we could move to a more comfortable and roomy anchorage. But this was the start of a rather blustery & wet two months
---