Waiheke Island

Lynn & Mike ..around the world
Mike Drinkrow & Lynn v/d Hoven
Tue 13 Dec 2016 05:37
36:46.72S 175:00.79E Waiheke Island
This island of 92sq/km, is only 35km from downtown Auckland, and serviced by numerous car and people ferry services. It is not only a commuter suburb for Auckland, but also a very popular holiday/ tourist destination. Covered in boutique wine farms (I counted 23 on the map), each with wine tasting and many with 5star restaurants. Prices are "over the top" – with wine shops starting at around NZ$35 a bottle and going up, very steeply. It would seem that while some farms "buy in" grapes, a remarkable number of varieties are grown here on tiny blocks of land. The dominant grapes being Merlot; Syrah & Chardonnay. They also do olive oils. . With these wine farms, beautiful cliffside homes and pretty beaches, and it is easy to see the appeal.
Waiheke has been very friendly to us. Thanks to my friend Judy in London, we met up with, Steve & Jan, who fairly recently moved to the island, after many years working on superyachts in the USA/ Bahamas. After a great evening of sundowners on TIME2, we met Steve the next afternoon and he took us for a whistle-stop tour all over the island. Later, we had a delicious dinner at their home, where Mike also got to meet an old employee of his from Mainstream (JP) , who moved to New Zealand some years ago... another small world story.
Dinner with Jan & Steve Lunch in Oneroa
Mudbrick Wine Estate
Depending on the wind, we have had to move around the island, to try to find protected anchorages. We anchored twice in Oneroa Bay, which has a very cute little "touristy" town. When the wind changed, we moved over to the West of the island to Putiki Bay. I had received a Facebook message from a couple who are very keen on buying a Nordhavn yacht. They had seen Time 2 anchored at the island, and then invited us to their home – which included sampling some of the lovely local wines and olives. Susie and Murray have with an extraordinary 270deg view from the edge of Kennedy Point, back towards Auckland. We later took them back to TIME2 where we could discuss more things "Nordhavn".
Mike's daughter Hayley, with her husband and children, also arrived to visit.They are visiting New Zealand from South Africa, and rented a house on Waiheke for a few days, rather than sleep on the yacht (which can be tricky with small children) They did spend a very pleasant day with us on the water and Aiden loved being on the helm. Mike also got to show off his fishing lures to his grandchildren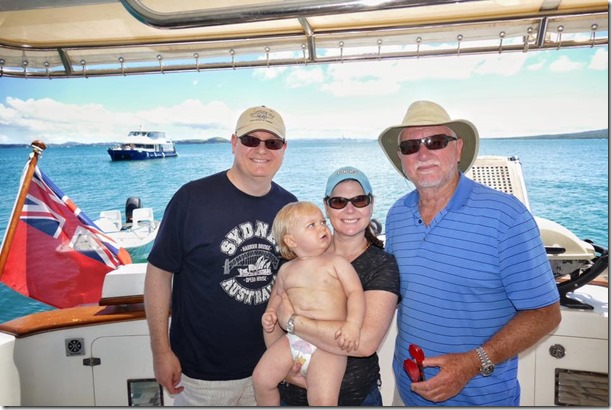 Aiden and Erin have a different approach to the lures!
And then another interesting meeting. Our friend Kerri, from sv Mariposa, who is a very active member of the local volunteer coastguard came for a visit. She brought the crew of one of the rescue boats that services the Hauraki Gulf, for a quick visit to Time2. Our friends in the anchorage were very curious as to why such an official vessel was tied up to TIME2. They have a great system, whereby 'boaties' join the coastguard and can then get free assistance, similar to the AA, or TowboatUS - If you are not a member you pay for assistance. This is a practice that our NSRI in South Africa should consider.
Sadly the weather is still treating us poorly, and we had a terrible night on Saturday, when the wind switched to on-shore, gusting to 35knots. Lots of chop made for a bouncy night. In the morning upped anchor and moved around again. Sadly the weather in New Zealand is wearing us down – other than the occasional fine day or two, we continue to have cold windy weather that is driving us nuts. Its the middle of December people! This morning I was thinking about the information we were given at the Maori museum – that the original Polynesian settlers travelled by canoe up and down between New Zealand and their original islands in the tropics. Rubbish I say! Why on earth would they return here? No mammals to eat, same amount of fish and its damn cold.
But we have had a fun and interesting time here –
Never to old to act like a teenager!
---