Best Birthday at Staniel Cay

Lynn & Mike ..around the world
Mike Drinkrow & Lynn v/d Hoven
Wed 26 Apr 2017 15:44
Best Birthday – at Staniel Cay
Since we started cruising in 2008, I have spent all my birthdays, bar one, out here on the big blue. The record goes something like this:
2008 – Happy Island, The Grenadines
2009 – Anchored off an uninhabited cay, south of Grand Turk
2010 – Fox Town, Little Abaco, Bahamas
2011 – Anchored off the western shore of Cuba
2012 – Zihautananejo, Mexico
2013 – Nuka Hiva, Marquesas Islands
2014 – Brisbane, Australia
2015 – Home
2016 – Russell, Bay of Islands, New Zealand
All very exotic, but some were great, some mediocre and others just complete non-events. But this year was to be super special, as we had our dear friends Tim and Smeezie on board, and we are in a great spot, close to Staniel Cay.
We woke up to a gorgeous day – had breakfast on the back deck and got ready for our trip to the Thunderball grotto. This grotto was used in the 1965 James Bond movie and offers some fabulous snorkelling, after you swim under a ledge into a huge cave.
In the afternoon we headed over to "Pirate's Beach" where cruisers have set up chairs, tables and umbrellas to share with all who visit. Great spot for a picnic lunch. There is lots of yacht memorabilia too – reminding us of Middle Percy Island on the Great Barrier reef.
That evening the Long's treated us to a lovely evening at the Staniel Cay Yacht Club, where we tucked into a 4 course dinner with gusto.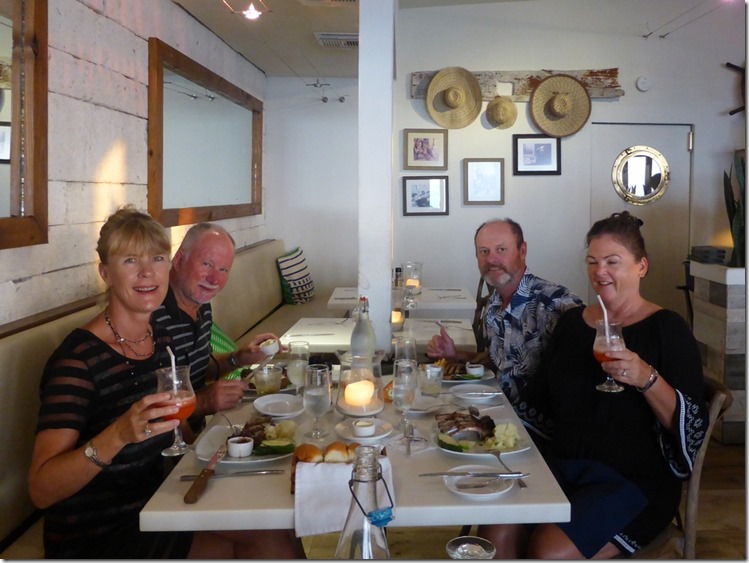 It was a fabulous day – certainly a birthday to remember! Thank you Mike, Sharon & Tim
---