Turtle Bay

Lynn & Mike ..around the world
Mike Drinkrow & Lynn v/d Hoven
Mon 2 Jul 2012 20:22
27:41.21N 114:53.19W Turtle Bay
From Cabo Saint Lucas we headed north west for just over 400nm to Turtle Bay. The trip took us non-stop, three days and two nights in fairly unpleasant conditions - with wind and current against us. Mike and I take alternate 4hour+ watches during the night which can be quite exhausting - but were very happy to be inside the warm dry wheelhouse of Time2 and not on a sailboat.
Also heading north with similar timing/ routing are two other Nordhavns - the 64ft Solana and the 60ft Paradise found, as well as Henry and Co on his Fleming Kialoa and Phil on Tetu. We all have ended up in Turtle Bay waiting for the next weather window, to continue north. Watching the weather on this Baja Bash is all consuming!
It has been a fun stop - the first night we went to shore for dinner and enjoyed a huge yellowtail, beautifully prepared with garlic, onion and mustard. Last night we had dinner on Tetu, prepared by Phil's Mexican crew, Martin and Chino. While they joined the trip as boat captains, Chino has revealed himself as a great chef, and prepared a 3 course meal for us all - ending with carved fruit!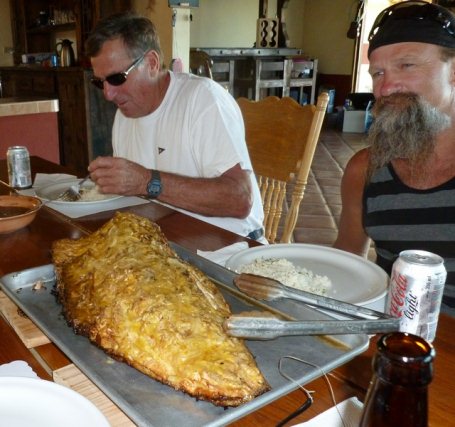 Remarkably delicious for such a big fish That carved fruit
This morning we went for a tour of the Nordhavn64 - the home of a couple who previously had a 57ft like ours! Wow - what a ship, she is huge for just two people!
Tomorrow we will head up to Cedros Island where we will anchor overnight, and then Thursday continue up to Ensenada - with or without stops depending on how we feel and how the weather holds up.
---