Life aboard Time2

Lynn & Mike ..around the world
Mike Drinkrow & Lynn v/d Hoven
Tue 12 Feb 2013 23:14
Living on Time2
While we were home, a few friends commented on the fact that there were few photos and information about the actual boat on the blog, and what it is like living aboard - so here goes..
Its like living in a small luxury apartment with a fantastic view that changes all the time!
Its like living on your own island, where you make your own power; water and can be 100% self-sufficient for over 3000nm
or if you want more detail, it goes like this.....
We have a lounge (Salon ..or is it saloon?) with leather reclining chairs, a dining table with bench seating and a large TV/ DVD with surround sound system to relax and watch movies. The salon has large windows with wooden venetian blinds, that are essential for privacy in marinas. The woodwork is beautiful in teak and we have carpeting throughout.
The galley is open plan with marble tops and and everything you need to serve up a fabulous meal (except the gourmet chef perhaps?!) We have an electric oven, gas hob with extractor, microwave convection oven and a full size fridge/ freezer (with ice-maker). There is a door off the galley, making it very easy to feed the fish with leftovers! In fact the boat has 6 doors! Back, Galley, Starboard, one on either side of the wheelhouse and one going up to the flying bridge. Each are heavy metal sliding "sea proof" doors.
I took these pics just before we went home, when everything was neatly packed away - usually you would see a bit more sign of life!
From the salon/ galley, you go up five steps to the wheel-house, which is where we spend most of our time when we are under way. There are two "driving" chairs and a bench/ table behind for extra seating, and a big bookcase. The wheelhouse has a perfect view out and a door on each side for easy access to the front and side decks.
As far as electronics go, we have a lot: For navigation we have Radar; GPS; AIS; Chartplotter and the usual depth; wind speed; water temperature indicators. For communication we have a VHF and SSB radio as well as a Satellite phone that is attached to a laptop for emails. (In many cases we have duplicate or back-up systems) For power we have the main engine(Lugger 340Hp) and a smaller standby engine (80Hp) ; a bow and stern thruster- as well as two generators. All the controls/ monitors for the engines and electronics are here too - looks like the bridge of the Starship Enterprise!
The Wheelhouse: Looking forward Mike catching up on email
From the wheehouse there is staircase that takes you up to the flying bridge, where there is more seating and another full steering station. Mike loves it up here, but it can be a bit windy and very wet in the rain. Behind this area is a deck where we store our kayaks and two dinghys... (his and hers - her's is a big one with steering wheel, comfy seating, shower and 40hp engine... and his, a small one with 15Hp pull start!)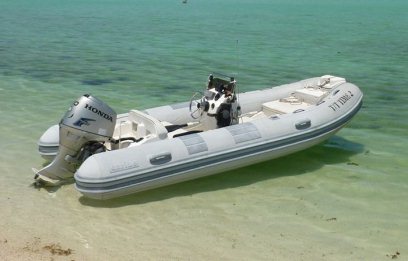 My sport's car Port side of the boat .. the black blobs in the front are fenders
From the wheelhouse there is another staircase taking you down to the cabins. Our main cabin is very comfortable with a queen size full walk-around bed. We each have bedside tables and hanging closets which are a luxury after the catamaran. We have an en-suite bathroom with a marble top and a large shower. For guests, we have a forward cabin with a double bed and another with two bunks - these share a bathroom.
Comfy cabins
Fresh Water .. this requires a special mention, as it is a very precious commodity when you are surrounded by seawater. We have a desalinator/ reverse osmosis watermaker that can make 135l per hour, which is very little when you think of normal household consumption, but very generous for a yacht. Not only do we need water for for all the usual showering, washing & cooking, but Time2 also has fresh water toilets. And talking of toilets ...for all you land-lubbers ... the toilets operate with a pedal to flush and a vacuum system to get rid of the waste. This goes into a holding tank which can be sucked out into the sewerage system at a marina, or if in the deep, can be pumped into the ocean. Water from the shower/ sink (grey water) goes directly into the ocean, so we always use bio-degradable cleaning materials.
For cruising comfort - Time2 has a sophisticated hydraulic stabilization system with large "fins" out of the side on the hull. These move automatically to reduce rolling - and they work fantastically. We also have 4 air-conditioning systems which keep things cool - bearing in mind that they need power, so we generally don't use them on anchor. Like water, power is a precious resource and we use it conservatively - however, this is nowhere near as tough as some sailboats, as we have always have engines on when we are under way and our inverters are always on (For landlubbers - an inverter turns power from an engine into the stuff that comes out the plug points)
Underneath ..the bulbous bow and the stabiliser fin (on the right) Spacious Engine room
There are a few other fabulous features on this boat - there is a washing machine and tumble-dryer; a piped vacuum cleaning system; a compressor to fill dive tanks; a work bench with tool drawers in the engine room (where you can stand up and walk around) and an Insinkerator (that gobbles up any bits of waste in the sink like a fierce monster). This is a common item in every American home, but still a novel toy for me.
Living on a boat does have some challenges - for me, the biggest one I think, is not having a car. Buying spare parts or groceries often means a drive by dinghy to shore and then a bus or taxi drive to the store, if you can find it. We are often in remote places where you can seldom find exactly what you want. But we have learnt to compromise, eat what we find and make do. It's a cheap price to pay for an amazing lifestyle. Mike is also super brilliant at making things work, so when he is not fishing, he is fixing. A great new addition to our lives are the bicycles we got in Ensenada, and for now, while on a marina, they are great for getting around.
And I guess that gives you more of an overview of life on Time2 .... a wonderful way to see the world!
---