Haulout at The Gold Coast - heading home

Lynn & Mike ..around the world
Mike Drinkrow & Lynn v/d Hoven
Wed 4 Nov 2015 10:59
27:52.19s 153:20.10e Haulout at the Gold Coast and heading home
We enjoyed our week at Mariner's Cove. Managed to catch up with the crew on Back Friday again and also enjoyed a breakfast with Brian Bellamy, whom I had not seen for at least 15 years, since he moved back to Australia. He took me to one of the many Surf Lifesaving clubs along the coast – they all have spectacular settings right on the beach and serve a great breakfast. Also managed to see Bev Bowman(sv Liberty VI) – who we hope to see more of in New Zealand next year
Our last weekend in Australia coincided with the final of the Rugby World Cup. We had been watching the event over the weeks, usually in bed, as the live times from England were in the middle of the night here. South Africa lost in the semi-finals to New Zealand, and the All Blacks were now playing Australia in the finals. Again the event was to be in the middle of the night, but our friends Neville & Angela came up with a plan. He invited us around to his place for a BBQ with the neighbours (Lin & Don) and sleep over. We would impose a media black-out on the house at midnight, tape the event and then wake up at 6am to watch it. What a fun evening/morning that was. Our friends are New Zealanders living in Australia, so there was a tiny little bit of support for the Wallabies, but not Nev, who did his own version of the Haka.
Nev & Ang Don & Lin
The real Haka Richie McCaw & the All Blacks hold up the trophy
It was now time to get ready to go home. We went through all the usual preparation – which involves lots of packing away, cleaning, cleaning out and servicing. After doing this for 8 years we are getting it pretty well organised, but the fear of mould is always there. I bought more DampRid this year, but only time will tell...
After waiting for enough water on the rising tide we set off on the 23nm trip up the Coomera River to The Boat Works, going through a few very shallow bits, we managed to avoid grounding ...again! "Mud-flats Mike" is going to have to get a new nickname! The waterways here are very impressive, reminiscent of Fort Lauderdale, with many large homes along the water.
BoatWorks is a massive boatyard, with inside and outside work facilities, and a completely separate storage area. We were very impressed with the staff, facility and cleanliness, and were happy for Time2 to be hauled out and stored here for the next 4 months. They also have many sub-contractors on site, which we may use when we return. Mike managed to find a replacement anchor for our original (bent) Nordhavn one, a huge Ultra, in shiny stainless steel. This will still be a secondary anchor to our trusty Bruce.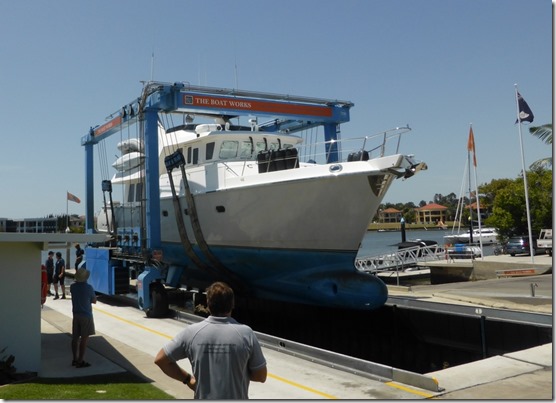 In the slings ...again Who is going to polish this?
We were flying out of the Gold Coast airport – which is further south in Coolangatta, and the marketing manager at the yard happily gave us a lift down there on his way home. Tuesday was a big day in Australia ... the day of the "race that stops a nation" ... The Melbourne Cup. All over Australia people have race day lunches, dressing up to the nines. Mike was highly amused by the ladies "fascinators". As it turned out, it was a historic day – as the event was won by a lady, Michelle Payne, riding an outsider, Prince of Penzance.
Newspaper Headlines Definitely "fascinating"
Due to complications with our flight reservation, we had a spare day in Coolangatta. It was a nice easy day, took a walk down to the beach and had lunch at another Surf Lifesaving club.
There is a rather bizarre thing that happens there: Coolangatta is in Queensland and its neighbour, Tweed Heads, is in New South Wales – but the towns are seamlessly joined. So here is the problem ..... they are in different time zones! With NSW following Daylight-Saving, but not QLD, there is a one hour difference from one side of town to the other in summer. With our hotel in NSW, but the airport in QLD it was somewhat confusing – and very easy to mess up your time of departure. Luckily the lovely owners of our hotel had it all figured out. Told us to ignore the clocks, and they would wake us up and would drive us to the airport in time for our flight. What great service!
The stunning beach at Coolangatta
2015 was a bit of a stop-start year of cruising – with a few interruptions and some disappointments as some plans never worked out. We only managed 1650 nm this year.
But we are now ready for long flight home. The plan is to be in Cape Town until mid-February, which gives us time with our friends and family over the festive season – and also time for Mike to complete his pilots license. In 2016 we plan to head down to New Zealand.. lots more adventures ahead.
---