Annapolis

Lynn & Mike ..around the world
Mike Drinkrow & Lynn v/d Hoven
Sun 5 Sep 2010 13:23
38:57.66N 076:28.85W Annapolis, Maryland
We are now docked at Jabin's Yacht Yard in Eastport, which is on the south side of Annapolis. This is a busy boatyard with hundreds of boats in storage and many on the docks too. There are a number of companies that work in the yard, many of them owned and operated by South African's. Its the funniest thing to keep hearing South African accents all the time! Mike and I have been working very hard at cleaning up Indigo
The big excitement this past week was Hurricane Earl - a massive Category 4 storm raging up the east coast. Luckily we are tucked in up here, more than 150nm from the ocean and felt nothing! This is what she looked like mid-week...you can understand our concern. This hurricane season is proving to be very busy, and we have already had 9 named-storms, of which about 4 have reached hurricane strength already.
The eye of Earl clearly visible Sunset over Annapolis as the hurricane clouds appear
The people in the yard have been very kind to us - Terry from Annapolis Boat Services has lent us his truck to use at night - which is wonderful, as all the stores are quite a way from the boat, up a hill. The dockmaster Keith, is a real character - has an accent just like "Larry the Cable Guy" which totally cracks me up. He came to pick us up on yesterday and took us to a local car show. it was really interesting to see a blend of beautifully restored cars right next to , what I can only called bastardised cars - where they take a body of an old car and do all sorts of weird things to it.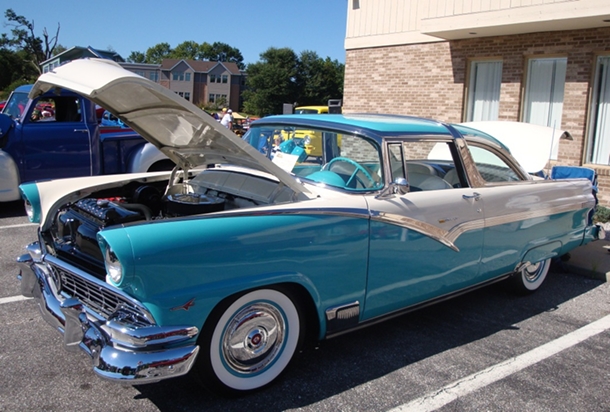 Mike & Keith admiring a 1940 Lincoln Zephyr My favourite - a 1956 Chev Crowne Victoria
How's that for a Bakkie!? Got to love those wings!
And then there were the others.....
---