The passing parade in Fort Lauderdale

Lynn & Mike ..around the world
Mike Drinkrow & Lynn v/d Hoven
Tue 1 Jun 2010 15:19
We have been in Fort Lauderdale for a few weeks now - and I have been very bad at updating the blog .. so here goes!
Being docked in the city is wonderful - we are close to everything and have an incredible view. The passing parade of super yachts sailing by each day keeps us entertained. These boats are on their way up the New River to the big boatyards at Lauderdale Marine centre, which is quite a way inland!. The bigger ones are 'towed in' - i.e. they are generally under their own power, but are being steered by a towboat on the front pulling them forward and one on the back pulling them backward. This is essential due to the narrow winding river, and their extreme length, and the complication of waiting for bridge openings
I took a river taxi down the mall, which included at bit of a tour of the most incredible homes on the waterway. When a tourist asked the driver if any of these homes belonged to movie stars, he said ... "No, they cant afford it - the people who live her are the people who employ the movie stars" . Check these out!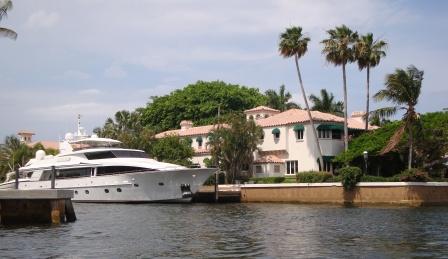 In our first week, Tom came over from Bonita Springs to visit - and we enjoyed another good evening at The Rustic Inn with a feast of crabs. We also got a local phone which has been great - Mike seems to have it attached to his ear all the time!
We have met a wonderful couple who moved here from SA a few years ago - Di & Will Paterson. We have been round to their house, and they have introduced us to their children who also live here. We have been braii'ing and enjoying their homemade boerewors and biltong! Like many people in Fort Lauderdale, they also live on a canal and are able to have their boat right outside their house. This is the way to live!
---