Man 'O War vs Great Guano

Lynn & Mike ..around the world
Mike Drinkrow & Lynn v/d Hoven
Thu 6 Jul 2017 22:38
26:36.29N 77:01.14W Man 'O War vs Great Guano Cays
Man 'O War and Great Guano are two cays north of Marsh Harbour, the tourist centre of the Abacos. Two cays next door to each other that could not be more different!
Man 'O War is similar to Spanish Wells in that a very tightknit conservative community controls the island, as it has done since the Loyalists came to these islands in the late 1800's. Its a very religious island, and if you want a beer, best you bring your own. The Albury family is very prominent, dominating boat building in the Bahamas. They now also run a large ferry fleet between the islands in this part of the Abaco's. These ferries are essential forms of transport for workers, residents and tourists. Expanding from sail making, the island established business that makes high quality canvas bags – seems the same ladies are still working here, since we last visited over 7 years ago.
Marietjie – checking out the bags Typical Albury Ferries
Just beyond Mon 'O War, is Great Guano Cay. This cay is highly developed for tourism and foreign investment. This now includes a huge and very private, golf course/ housing/ marina development on the far western end called Bakers Bay. But that's not why we came here – we came to show Steve and Marietjie the two great venues – Nipper's and Grabbers. These fun beach bars, have the added plus of swimming pools, which make them firm favourites with tourists & cruisers. Of course we went to visit both..
The ice-cream coloured Nippers is on the northern side of the island
.......and on the other side .... there is the neon coloured Grabbers!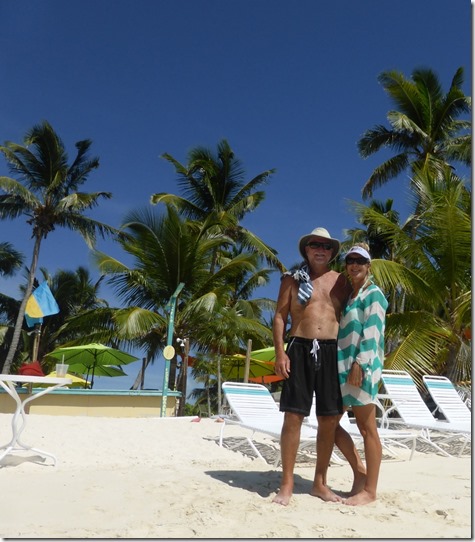 did I mention the rum punch?
---