Haul out in Townsville

Lynn & Mike ..around the world
Mike Drinkrow & Lynn v/d Hoven
Mon 1 Jun 2015 22:23
19:15.58s 146:50.41e Haul out in Townsville
Having been in the water at Magnetic Island Marina for over 7 months, Time2 had grown a sizable bit of reef on her sides and bottom – it was time for a haul out!
Luckily Rosshaven Marine was only 7nm away in Townsville. Townsville being the regional centre of northern Queensland, the second biggest city in the state with about 200 000 people. Rosshaven is a substantial yard, with a massive 300t Travel-lift to service the fishing fleet and large ferries. We however used the 75t lift, more than suitable for our 55t.
We had shipped our paint up from Brisbane – decided to stick with Sea Hawk Island 77 which had worked very well over the last few years. Interestingly enough, they have now changed the name to BioCop, which may be to distance it from their product called Island 44. That paint is old style, good poison for barnacles, and not acceptable for yachts in the "First World". In the world of bottom paint (anti-fouling) it would seem that large ships are allowed to have the really poisonous stuff, but recreational vessels not. Perhaps this is because we do get to anchor in some really pristine waters, while the commercials just get to stop in the smelly ports.
Over at Rosshaven we were quickly hauled out by Richard and his team, who then attacked the barnacles and growth with their high power water-blaster. It is so powerful than not even the foot of the most stubborn barnacle can survive. It also has the benefit of loosening old and loose paint, so you have a good surface to reapply. This minimised the amount of sanding required.
Not too bad considering 7 months in water over 28C Bottom of our fenders
Rosshaven has a reputation for being very difficult and very expensive (Labour runs at just over A$ 100 per hour!), however they are also very professional, so we were very satisfied with the work done. For the first time we had the bottom paint sprayed on (not roller), which is much quicker and gives an excellent finish. We also had the propellers coated in PropSpeed again, which keeps them very clean.
Screens to prevent the spray paint affecting other boats Plastic shielding on the hull for the same reason
While the paint was being done, we were living aboard. Not great, as you can't use the basins or showers, as these drain directly out, so buckets and an ablution block at the end of the yard have to be used. However with our wonderful freshwater toilets and black tank, we were not running down the ladder in the middle of the night. We also had some time to pick up spares and do some shopping in Townsville. Retail branding in Australia is interesting, with many chain stores having people's full names e.g. Joyce Maine; Harvey Norman; David Jones; Dick Smith. But Total Tools, owned by my ex Clicks colleague David – was the greatest hit with Mike. What an incredible range of stock he has – catering mainly for Tradies, but the public is welcome.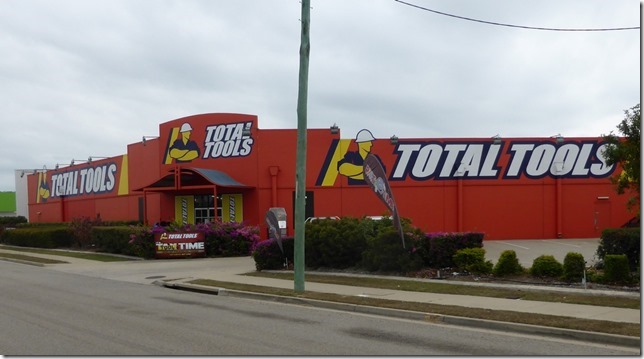 It was nice to get out to a restaurant and walk about the city a bit one evening. That night was the start of the Origin series – a major 3 match Rugby League tournament between Queensland (Maroons) and New South Wales (Blues) Players are chosen based on where they come from, rather than for which professional team they are currently playing. All the pubs were full and the locals were happy, Queensland won this first round.
After 4 days, the work was done and it was time to get back into the water. So here she is, debuting with her bright blue bottom – with Richard leading her in like a drum majorette.
With maintenance being an on-going issue, Mike also bought two new helm chairs for our flying bridge, as the old ones were falling apart. We can look forward to some very comfortable cruising on these.
Old and stuck together with tape New ones in place
Back at Maggie we have a few more things to do – and then to start heading north towards Cairns.
---