Our last week in the Bahamas

Lynn & Mike ..around the world
Mike Drinkrow & Lynn v/d Hoven
Fri 17 Jul 2009 22:48
27:07.90N 078:04.49W Outer Reef of the Abacos
We have had a wonderful last week in the Bahamas - between Allan's Pensacola, Strangers and Small Sale Cay. ( All these are uninhabited islands) We met up with a great couple from Ft Pierce, who have not only taken us diving and boating around the area, but have also shared lots of fresh fruits and vegetables and their invaluable local knowledge. Doug & Terry have a converted fishing boat called Isla Mia from which they did dive charters into the Bahamas for many years. They also have the most delightful wire-haired Jack Russell called Max, whom Mike is totally in love with... I suspect we may be getting one of these when we get back home permanently.
Indigo & Isla Mia on the outer reef Doug and Max
Doug has what he calls a "panga", a 26ft open run-about with 175hp engine - and he zoomed us around the cays showing us different dive and fishing spots. In addition to a very beautiful scuba dive that we did off the outer reef, we also spent a lot of time in the water free diving of the different anchorages.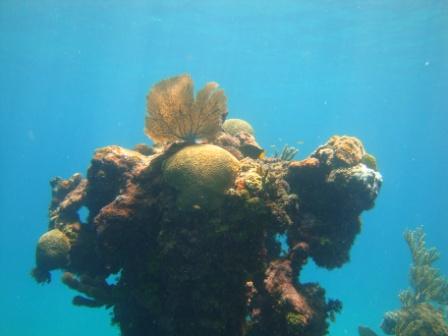 Terry and I were snorkelling, while Mike and Doug were hunting! And they had a huge amount of success with their Hawaiian slings, filling the fridge with the delights of the sea. As the guys would put a grouper into the boat, Max would attack it, trying to bit the fish ...the funniest sight!
Nassau Grouper Max in the box
On Doug's recommendation we have decided to take Indigo to Ft Pierce rather than to Port Canaveral. There is a more protected marina and boatyard that can handle catamarans. We will also be more centrally located to get around the places we want to visit in Florida.
---