more of Martinique ...

Lynn & Mike ..around the world
Mike Drinkrow & Lynn v/d Hoven
Thu 8 Jan 2009 13:45
14:44.65N 61:10.64W
Martinique..the west coast

After celebrating the new year in Le Marin, we moved to St Anne, a small village at the southern edge of the bay. The weather was still miserable, but we had a quick walk and watched the fishermen come in, and sell their catch in the market. Two guys brought in about 40 fish, consisting of small skip-jack, yellow fin and dorado.


Our next stop was Anse Matin where quite a bit of damage from hurricane Omar (Oct '08) was visible. This area is quite touristy, with cute buildings and restaurants. We treated ourselves to a delicious pepper steak dinner. There is an amazing ferry service accross the bay, at least on or two per hour!
Next, we crossed the bay to Fort de France, the capital of Martinique..... a shopping paradise in the Caribbean. Mike had to let me on shore alone for a few hours so that I could fully enjoy the retail experience...and I did! They have everything there, from high end Paris fashion to "cheap-and-cheerful" Chinese goods. I found the most amazing store that reminded me of Discom - one of the best ethnic haircare range I have seen!
Fort de France has 2 buildings, with particularly extraordinary architecture - the Cathedral and the Schoelcher Library - both are made of a steel structure with concrete "inserts" (perhaps the inspiration for vibracrete?) Notice the amazing flat palm tree in from of the library, it is quite common here and grows facing the sun, like a giant fan.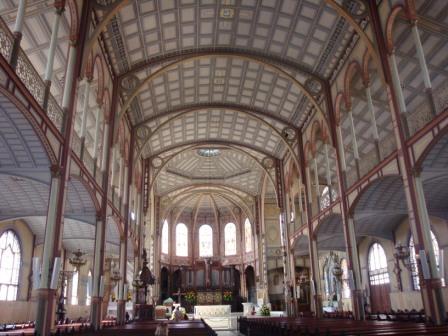 From Fort-de-France we sailed north to St Pierre, the original capital of Martinique. What an interesting place! It lies under Mont Pelee, a volcanic mountain - which in May 1902, after a few weeks of
"growling" -finally erupted, destroying the city. St Pierre (and about 30 000 inhabitants) was totally destroyed by a superheated gas and volcanic dust (not lava) explosion. This killed everyone (bar one) in the town, and even the ships on anchor in the bay were incinerated. Over the next few days, rock bombs destroyed what was left! The sole survivor was a prisoner called Cyparis, who was in a dungeon (see small building in the ruins below). He was badly burnt and although released spent his remaining years in the Barnum circus in the USA - a prison in itself I imagine! The museum shows a city with many beautiful buildings and fountains, including a lovely theatre - only the dramatic entrance staircase and stone base remains. Fort-de-France is now the capital, and St Pierre has less than 5000 inhabitants, mostly focussed on tourism, some fishing and a sugar cane plantation.


Mike and I took a very energetic hike to the local Rhum distillery - called Depaz, which was quite beautiful and well laid out. The high quality rhum is aged in oak barrels similar to brandy or cognac - and the top-end product is up to Euro 70 a bottle. I was interested to see that the French word in the distillery for a "condenser" is serpintin - and from the photo you will see why! Something that totally cracked me up...was the fact that you can buy rum here...in a happy box ... image 4.5 litres of rum (50% proof) on tap!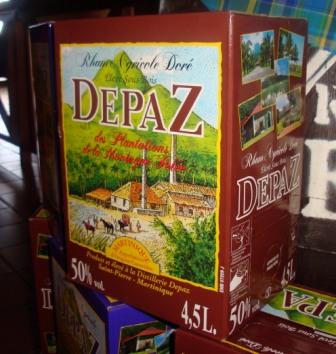 Lastly I wanted to back-track to St Lucia, where we saw the most amazing boat race - St Lucia vs Martinique in traditional sailing boats called "Yoles". You will see from the photo's below - how the very athletic crew each has a pole, which is used to lean out and lever the boat for best speed. The boats are very narrow and the sail is very basic with a mast and another pole at 45deg holding out the sail. There is a person on the tiller and a guy on the single sheet, shouting continuously - making these boat move very swiftly. There are also some spectacular crashes, and lots of legs dangling in the water. What an entertaining sport!
In a day or so we will continue north to Dominica and Les Saintes. Hope the new year is being kind to you all. Love Lynn & Mike
---