Port Washington, NY

Lynn & Mike ..around the world
Mike Drinkrow & Lynn v/d Hoven
Thu 12 Aug 2010 00:11
40:49.64N 073:42.72W Port Washington
Indigo has been in Manhasset Bay for the last week, at the Port Washington Yacht Club. This bay is fairly close to New York City and a very upmarket residential area, with commuters travelling daily into Manhattan on the LIRR (railroad). This very efficient rail system can take as little at 30 mins to get you right into Penn Station. The yacht club is gorgeous and has many facilities for members including covered launches out to the moored yachts, a large pool, tennis courts, upscale restaurant and bar - and even has a summer camp for the children of members. They offer the children lessons in sailing, kayaking, swimming, tennis etc through the long summer holiday.
I took the trip into Manhattan a few times and enjoyed walking around as well as taking an open air bus tour. This is a hectic city, with over 45 million tourists visiting per year. Although I am know to have my "springbok colours" in shopping, I restricted myself this trip, to enjoying the architecture. Here are some photographs of the more memorable sights.
The Neo- Gothic style - St Patrick's Cathedral, on 5th Avenue. Brick, covered with marble, that can accommodate 2200 people.
The dramatic Grand Central Station - largest train station in the world. The Bull of Wall Street
Two magnificent official buildings - City Hall and the main Post Office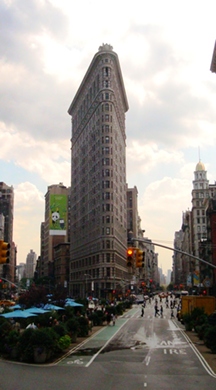 Three most recognisable skyscrapers - The Chrysler, Flat Iron and Empire State buildings (P.S. the latter does not lean, only I do!)
The chaos of Times Square
---