Magnetic Island to Fantome Island

Lynn & Mike ..around the world
Mike Drinkrow & Lynn v/d Hoven
Sat 23 Aug 2014 06:14
18:40.66s 146:30.58e Magnetic Island to Fantome Island
We ended up staying much longer in Nelly Bay (Magnetic Island marina) than we anticipated, as the flu took a long time to disappear....a cough still lingers!
However, we did eventually manage to get out the bikes and drive around the island a bit. There are some lovely bays, with nice beaches and the cutest rock wallabies (bit bigger than a cat) living on the breakwater in Nelly Bay. This island is a lovely place to live and is very well serviced by ferries out of Townsville, the trip taking 20 – 30 mins. There is a car ferry that runs eight times a day, and a people ferry that runs 18 times a day – between 6am and midnight! Also via ferry, is the great grocery delivery service from Woolworths, which we used to stock up for the next leg north.
Massive banyan trees at Picnic Bay Car Ferry offloading
Resting on the bike/ walking path to Arcadia Rock Wallaby with a joey in its pouch
We also met lots of nice people in Magnetic Island – other cruisers on the dock; the excellent manager of the marina, Kerry and the owner of the other Nordhavn 57, Mark; Terra and their newborn baby.
Mike and Mark have been as "thick as thieves" comparing and discussing all aspects of their boats. And of course fishing, Mark loves fishing as much as Mike!
Marina manager Kerry with his "Hot Rod" 2 x Nordhavn 57 at Magnetic Island Marina (Myrtle and Time2)
Finally it was time to set off again – and this time we were travelling with mv Myrtle – heading north to Great Palm and Fantome islands. Mark and Mike had many fishing expeditions over the next few days, but sadly with limited success. I managed to get into the water and do a little snorkelling. The water is still cold, but the visibility seems to be improving and I have seen some great corals and very big reef fish. While down there, I saw a large coral trout (great eating) which Mike then later tried to find....spear-gun in hand. Unfortunately he mistook a porcupine fish hiding in a dark crevice, and managed to shoot the poor thing. Of course it blew itself up like a soccer ball and we had to hurry back to Time2 to release it. There are also a lot of whales out here, saw this mum and calf close to the back of the yacht.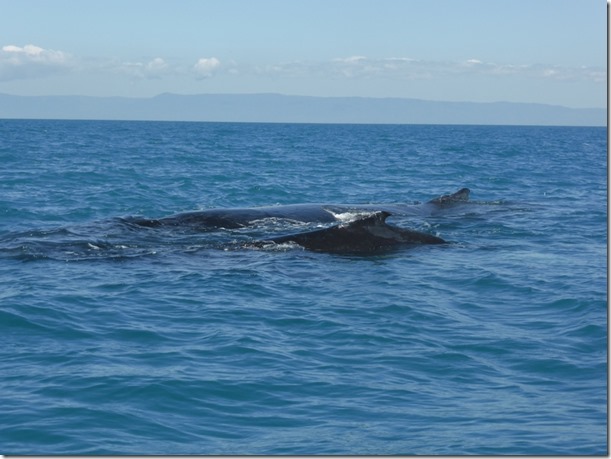 Mistaken identity – one very angry Porcupine fish Whales in the bay
Time 2 and Myrtle on anchor in Juno Bay, Fantome Island
We are now heading to Orpheus Island and then on to the Hinchinbrook channel. Mark and Terra have headed back to Magnetic Island, as baby Lachlan needs to go for his weekly check up. We have enjoyed their company and hope to see them next week again. And this time, I hope those guys catch some fish!
---