The British Virgin Islands

Lynn & Mike ..around the world
Mike Drinkrow & Lynn v/d Hoven
Tue 10 Mar 2009 14:36
18:26.41N 64:45.02W
Jost Van Dyke island, BVI
We left Virgin Gorda last Wednesday and headed down to Peter Island, where we found a magical anchorage off the south side, which was protected from the strong winds and swell. Once again we bumped into our friends Bob & Lynne on "Leap of Faith" and enjoyed sundowners with them and their visitors from Idaho. The snorkelling was pretty good and Mike spotted the biggest lobster imaginable - sadly for us, it still lives happily in that crevice.
Yesterday we sailed over to Soper's Hole on the south side of Tortola, to extend our stay with Customs. This is a very quaint harbour area with colourful buildings housing shops & restaurants and is also the base for Voyage yacht charters.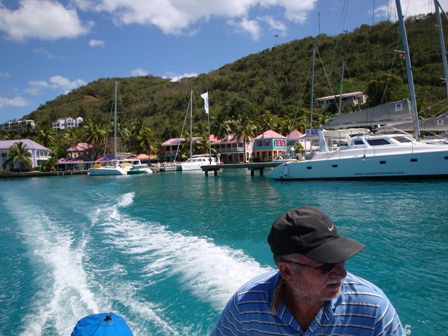 There, we witnessed a 45ft cruising yacht side-swiping a small day sailing yacht that was on a mooring ball. The small yacht was de-masted and received a gash in the side. Then to our surprise and horror, the offending yacht turned around and sailed out of the bay! We were stunned, but took the yacht name and reported the incident to the Harbour Master. Later we met a very distressed guy who was looking after the yacht in the owners absence, and gave him the details too. It is very sad that this cruiser, who is no doubt insured, would simply sail away from his damage - I hope they find the B*%$@, fine him and ban him from these waters!
From Soper's Hole we headed across to Jost Van Dyke, anchoring in Great Harbour. This bay is famous for Foxy's - a bar/ restaurant that has been here for 30 years! The owner Foxy Callwood recently was awarded an MBE for his service to tourism! It is a beach bar, with the "ceiling" being T-shirts, flags and hats with messages from visitors over the years. They serve good food, deadly cocktails and have a great shop. Foxy's T-shirts, hats, and other memorabilia can be seen all over the world where you find sailors. Naturally I had a little dabble with my credit card!
Our next stop is St John, USVI (United States Virgin Islands)
---