Baltimore

Lynn & Mike ..around the world
Mike Drinkrow & Lynn v/d Hoven
Sun 29 Aug 2010 12:24
39:17.06N 076:36.41W Baltimore, Maryland
The only reason we went to Baltimore, was to clear customs for Maryland - as they do not have customs in Annapolis, our next destination. >From the Chesapeake Bay , we sailed up the Patapsco river, under the Bay bridge to the Inner Harbour, which is on a dead-end. Well, what a pleasant surprise, to find such an attractive city. Their waterfront area has been beautifully restored, and even the old power station now houses a number of restaurants and a huge Barnes & Noble store.
We tied up at the city dock, right in the middle of all the action.
The next morning I went for a run, and passed the Torsk Submarine, one of the maritime museum displays - and got chatting with one of the volunteers on deck. He invited me for a private tour before they opened to the public. I fetched Mike and we had the most amazing 2 hour tour of this World War II Submarine.
The guides have all served on the Torsk, or are historians, so Mike has a great time chatting with them about all the technical details of the engines, torpedoes, systems etc. I was fascinated by how they managed to fit 80 men inside, and live for up to 2 months at sea, with only 4 toilets, 2 showers, beds stacked 4 high and the tiniest galley. Our guide Charlie assured us that the food was great and showering once a week is not that bad ..huh!!!
Built in only three months in 1944, this sub was fairly 'successful' and the last to shoot down two Japanese vessels in WWII - the last being literally as they were receiving the armistice message. She was retired in 1968.
In addition to the sub being a museum, they also host groups of school children for sleep-over's, which must be awesome. Here is a pic of one of the 'cabins', where they have taken out one layer of beds (down to 3) to make it more comfortable for the children! And here are Charlie and Mike (ducking) in the Torpedo room. Again I was fascinated to find out that there is a torpedo room on either end of the sub - with 4 shooting stations in each. They also used different sizes and types of torpedo's, some alcohol propelled and some with electric motors ..all very stealth and deadly!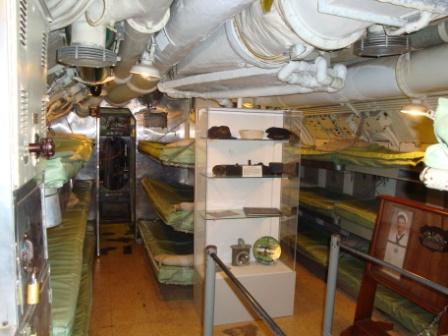 The saddest thing to see, was a plaque in memory of all the submarines lost in WWII - 52 vessels with over 3000 men on board! I cannot begin to imagine how frightening it must have been to be stuck at the bottom of the ocean in this underwater steel capsule, with no way of calling for help, knowing you are going to die.
---