Heading to Baja California

Lynn & Mike ..around the world
Mike Drinkrow & Lynn v/d Hoven
Sun 20 May 2012 16:40
23:59.28N 109:49.82W Heading to Baja California
From Bahia Banderas we headed 60nm north, along the coast stopping at Chacale and then Matenchen Bay, south of the town San Blas. (a town with the same name as the gorgeous Kuna Yala islands in Panama)
At Matenchen Bay we met up again with Phil and his friends on Tetu - a beautifully restored, 58ft steel trawler from California. Phil and Mike have been having a great time comparing boats, with some colourful teasing .. according to Phil, our very shiny 1ton dinghy crane (and our anchor wash) are clear cases of, "dick waving"!
We all headed to town on our dinghy for a wander around and had a good Mexican lunch. Before every meal you are given the most delightful onion, chili, coriander and tomato salsa called Pico De Gallo (the beak of the rooster), served with crisp tostadas (think..bland Doritos) On the way back we saw an incredible sight - two whale sharks! These massive krill and plankton eating mammals are no threat to us, and we were able to go close to the animal. I hope to be able to dive with one in the Sea of Cortez. Later, while some of the guys went fishing, I tried out a paddle-board, which is a large surfboard with a single paddle - the idea being that you stand on it and paddle out to a surf break and then surf in. It was excellent fun, but so far I have just tried the paddling, not the surfing...perhaps next time!
m/v Tetu Not such a good shot of the majestic whale shark
Our next stop was Isla Isabela, about a fifth of the way across the sea towards the Baja Peninsula. The island is only inhabited by transient fishermen who cross the 40 nm from the mainland for a few days at a time, and occasionally some ornithological researchers. The island is covered in birds and nests, the most striking being the blue footed Boobies. The bed of the anchorage is full of rocks and for the first time, we used a trip-line (from anchor head to a floating buoy) in case our anchor got fouled. The next morning we were a little hooked, but managed to get the anchor up fairly easily.
Mike and John have been fishing non-stop and in the last few days, and have caught, Grouper, Skipjack, Trigger-Fish, Dorado and Yellow-fin Tuna ..oh yes, and a Pelican! Luckily they managed to free the bird without too much drama.
Very blue feet! Beaching the new dinghy at Isabela ...with the horse-like rock behind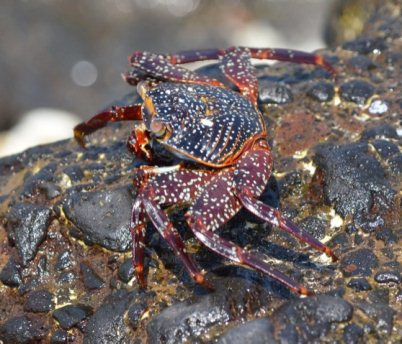 Phil, George and Tim (TETU) fooling around Sadly, these crabs were too small to eat!
We then headed off for our 256nm, 34 hour trip across to Baja, buddy boating with Tetu. We had a glorious day sailing without much use of the stabilizers and then settled into our night watches. When I took my watch at 1am, I noticed that the sea was a little rougher and the wind a little higher, and by 2am we were having a very uncomfortable trip with winds gusting to 24 knots. John found his bed too uncomfortable, and slept in the salon, while Mike managed a very restless few hours in our cabin. I settled into the helm chair with the instruments and only got up to do the occasional physical checks, hanging on carefully as I moved around. Strangely we passed a fully lit, large freighter in the middle of the night ..adrift! I could see them on AIS, so they could see us too, but made no contact so I assumed they were just waiting for something? The Mexican's LOVE the VHF radio and shout, whistle and babble continuously, sometimes even playing FM radio over it ... this on Channel 16, which is supposed to be reserved for hailing and security ... very irritating ..and you have to have it on!
By early morning the winds and seas had calmed down, and the rest of the day was an easy trip and we were all able to catch up on some sleep. We arrived to the dramatic Baja Peninsula at about 4pm, anchoring at Bahia de los Meurtos (bay of the dead!). What a dramatic view - the sea is a beautiful clear green/blue and the coastline is very dry, with just a few cacti....postcard stuff. But I am sure there will be a lot more to say about that in the coming months.
---