Tutukaka

Lynn & Mike ..around the world
Mike Drinkrow & Lynn v/d Hoven
Tue 8 Nov 2016 23:19
35:36.98S 174:32.16E Tutukaka
We had a pleasant ride up the coast – motoring though massive flocks of sea-birds all attacking what seem to be a type of krill just below the surface of the water. We decided to stop at Tutakaka – one of the places with hilarious names in New Zealand. We anchored in a bay close to the marina and launched the dinghy to take a walk around and sample the local ice-cream. New Zealand has excellent ice-cream! This is a small town with a fairly big marina, filled with fishing and pleasure boats. We suspect that people from Whangarei keep their boats here, as it is has quicker access to the ocean for fishing and sailing.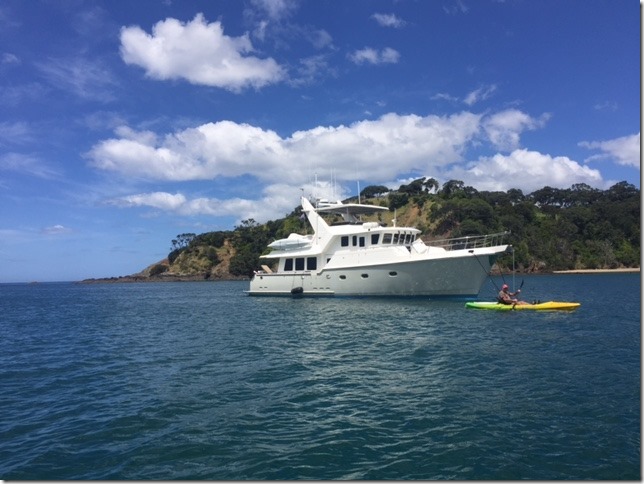 The anchorage is surrounded by hills and beaches with lovely homes, with a fair bit of kayaking and swimming activity. We also had three dolphins come in every afternoon, keeping us entertained with their exuberant antics. It may have been parents teaching their youngster some fishing tricks.
A large frontal system came through, pelting us with rain for 2 days and then another 2 of strong wind. We were however fairly comfortable and felt quite safe, so we got on with chores around the boat and caught up on some movies. One of the more ghastly tasks that Mike had, was to clean out the toilet pump, but somehow he can still smile for a picture. Today is the American election – and this was the headline in the local paper this morning. The reference being, an election campaign slogan that Obama used - "Yes We Can".
Next stop ... back to the Bay of Islands.
---