Samoa

Lynn & Mike ..around the world
Mike Drinkrow & Lynn v/d Hoven
Tue 30 Jul 2013 01:16
Samoa: (Formally Western Samoa)
We have been in Samoa for 10 days, and after an unpleasant, we have had a pleasant and very interesting stay. The problem was with the Dog squad who were extremely aggressive and had their smelly dogs all over the boat, shedding hair and scratching the woodwork. Mike was NOT impressed. Further to this we have only met friendly Samoans.
The marina is a bit chaotic, with at least half of the docks unusable due to cyclone damage and the other half with dodgy power - all run by the Port Authority in a bit of a slap-dash fashion. But it has been nice to have access to lots of water and Time2 has had a good clean - and all our laundry is up to date. We have also met a lot of interesting cruisers.
Last Tuesday we went to a 3 hour show and lunch , put on by the tourism office. It was a great introduction to the culture, covering dance, food, song, tapa making, wood carving and tattoos. The tattoos on the men are quite something - from knee to waist .. the whole way... that requires great dedication, given the level of pain.
Preparing the fish ..note the tattoos Very pretty girls doing weaving and dancing
Most of the island still lives in a very traditional way - in an extended family "compound" - with group responsibilities. The 'houses' are called Fales, which are structures with a floor, a roof and pillars - no walls! You can see right through them as you drive along the roads. There is a little furniture - mostly chairs, some fridges, some beds and very occasionally tables. The men do the cooking in an Umu - an open fire with hot rocks - where taro root and breadfruit are roasted, as well as fish and the most delicious baby taro leaves bound around coconut milk. The cooking area is a separate structure from the sleeping / living quarters. There also seems to be another Fale within the family group of buildings that just has chairs, or sometimes nothing. We are guessing that this is where the family gathers for events and discussions with the chief and or the talking chief, who manage the families. They also bury their ancestors in the yard, sometimes on the front porch! And yes the missionaries have been here in force too - HUGE churches in every small village.
Fale : Family home
More formal Fale - with graves
We rented a car for two days and drove all over the 'Upolu island - which is the smaller of the two main islands - but has the highest population and the capital town, Apia. We were amazed at how many towns and houses there were, but did not see that many people. As there is not a lot of industry in Samoa, we assume that that much of the working population is in Australia or New Zealand, sending money home and retaining their homes.
Mike treated us to a lunch each day at one of the 5* tourist resorts in the south. It was wonderful to be served beautifully prepared food in a lovely setting... the 3rd world island life can get to you after a while, and this was a perfect escape.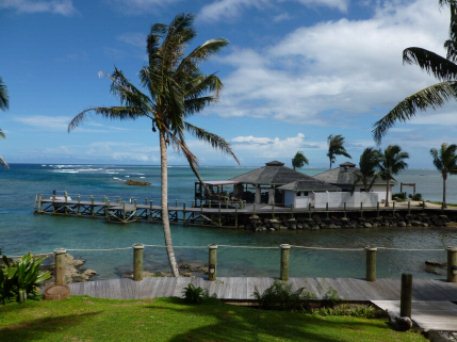 Sinalei Reef Resort restaurant ...great spot! Beautiful flowers floating in a bowl at Coconut Beach Resort
We also had great fun swimming in a giant sink-hole at Sua. One climbs down a steep ladder into a cool pool surrounded by green foliage. The sea water ebbs and flows into the sinkhole, allowing you to be slowly pushed around on your floaty!
A long way down the ladder Enjoying the refreshing water
Driving and biking around the island, we saw quite a few Springbok rugby jerseys being worn - and were told that Samoans love the Springboks, and always support them unless they are playing Samoa. One guy we chatted to , burst into a little N'kosi sikelel iAfrika
The last interesting thing I have to tell you about Samoa ..is the Lava Lava. This is a sarong/ wrap skirt, worn by men ..many of them.. sometimes with bead necklaces! This includes school boys, business men (formal suit type fabric) or just men about town. And everyone wears flip-flops! Given how hot and humid it is here, a damn fine idea!
We are planning to leave Samoa on Tuesday morning for the 3.5day trip to Suva Suva , Fiji.

---