Opua and The Bay of Islands

Lynn & Mike ..around the world
Mike Drinkrow & Lynn v/d Hoven
Fri 8 Apr 2016 12:46
Opua & the Bay of Islands
We tied up at the marina and Bryan and Tony got sorted out for the bus down to Auckland, to fly back to Sydney. We then got down to the general cleaning up and laundry that has to be done after a passage.
Each country that one visits has its own idiosyncrasies and quite quickly we have realised that New Zealand has lots of regulations. The major one we faced, is that every boat that wants to plug into New Zealand marina power, needs an inspection and certification of compliance. Over the last 7 years, visiting countless countries in the first and third world, we have never encountered this. Not only is it an expensive exercise, but also comes with extra bits to be fitted to the electrical system to comply with what they believe to be safe. Mike has full faith in the CE certificated electrical installation by Nordhavn and is not keen at all to have some local electrical inspector mess with that. So for the time being we will not be plugging in to power here. Luckily we have two generators.
Opua is set right inside the bay of islands, in a very protected spot. It is not a town, just a marina village. The towns of Russell and Paihia are fairly close by. Whilst Capt Cook called this the Bay of Islands, it actually has only a few islands, the rest is a very rugged, indented coast-line with hundreds of protected bays off the main land.
On fine morning I persuaded Mike to take the coastal bush walk from Opua to Paihia – guessing it would take about an hour. A stunning walk, but it ended up being about 10 kms, up and down tracks, through the bush and along the beaches, and so we arrived in Paihia rather exhausted about 2 hours later. This is a very cute little touristy town, with a ferry wharf, where we found a pleasant restaurant to have lunch. Delicious green lipped mussels done with cream, leeks and bacon. Sensibly, we took a taxi back to Time 2.
The Silver Fern of NZ Peaceful bay near Opua – NZ seems to have more yachts than people
One of the joys of sailing is seeing old friends one has met along the way, and making new ones. In Opua we caught up with Greg on Liberty VI and Jerry on Player, both whom we had met in the Pacific in 2013. Greg kindly took us down to Whangarei to check out the options for hauling out Time2 in the winter. There are a few yards down there, of varying quality and style. Quite surprising the yards here seem to be more expensive than the very sophisticated ones Australia. On the way down, Greg made a quick stop in Kawakawa where we saw its major tourist attraction – a mosaic'ed public toilet !!??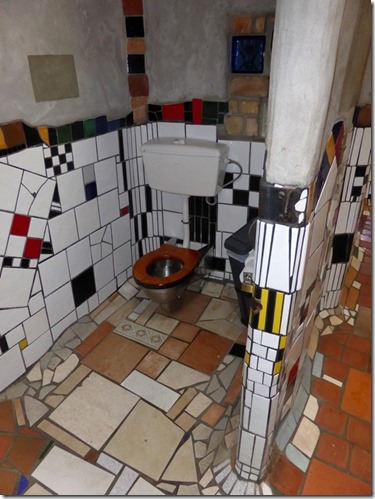 Reminds me of those small villages in Tasmania, with equally bizarre attractions Nice to see Greg
And then it was time to explore the Bay and visit some of the lovely anchorages.
With distances so short, we could try out 2 bays a day – one for a walk and lunch and then another one to sleep. On our first day, we headed to Black Rocks, where I got into the water with wetsuit and snorkelling gear and managed to get a good haul of green-lipped mussels. Surprisingly the water was not too cold, I guess around 21C. I was so excited to see such big mussels, but having eaten them, will go for the smaller, less tough ones next time. That night we anchored at the unbelievably calm Opunga Cove. Our next adventure was out to the Hole in the Rock, at the entrance to the Bay of Islands. The swell started picking up on the outside, so we did a quick circle and headed back in. We then found another gorgeous bay, appropriately called Paradise Cove.
My mussels Hole in the rock at Cape Brett
Paradise Cove
While hopping from bay to bay, Mike has been catching a lot of snapper. What they don't have in size, they make up for in taste – delicious delicate fish. He also caught a bigger fish, a Kahawai, but we have been told that these have to be bled/ eaten quickly, or best kept for bait. Similar to the Blue Fish he caught in the Long Island sound.
Yesterday we stopped into Robertson (Motuarohia) Island for a quick walk up the hill before heading over to Awaawaroa Bay for the night.
See Time2 anchored at Robertson Bay as above my left shoulder
---