Great Barrier Island

Lynn & Mike ..around the world
Mike Drinkrow & Lynn v/d Hoven
Sun 4 Dec 2016 03:40
36:09.94S 175:21.4052E Great Barrier Island
We headed south from the Bay of Islands towards Great Barrier Island – stopping at Whangaruru and Tutukaka on the way. At Whangaruru we went far up the inlet and took a walk. Not much to see except for a few cows, pretty farmland and some sub-economic housing.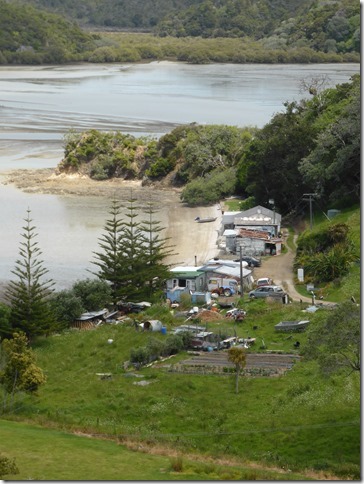 We then headed into the amazing sea/ landscape of Great Barrier Island (Aotea) Situated about 4 hours by ferry from Auckland, this huge isolated island (285 sq/km) has a population of about 850 split amongst a few settlements. We anchored at Port FitzRoy one night, and I managed to get in a great hike into the forest. Mike is still struggling with his sore leg, so no walking for him. New Zealand has very well maintained walking tracks, its a serious "sport" here .
The next night we went to Smokehouse Bay, where there is a very nice facility for boaties. The word boaties is used more commonly here, as opposed to all the other places where the term is yachties. And those with sails, can often be quite disparaging to power boats – calling them "stinkpots" etc. ( I suspect jealously at play
) But in New Zealand, it is totally integrated, as there are boats of all shapes, size and propulsion, and hence the friendly term "boaties" for all. Back to the Smokehouse – a very nice picnic area with wooden tables and facilities to smoke fish has been set up at the water's edge for all to enjoy. There is also a bathhouse, where you can shower, swap a book or just hang out. Pretty cool – forgot to take photos. We met a group of 5 large sportfishing boats, who were having more success than us, with snapper. We settled for some giant oysters, and mussels, that are easy to pick off the shore.
a 9kg snapper – huge! but then how big is this oyster?!
The next day we tried to find those large snapper and fished along the island for some time. Sadly only the smaller ones were interested in us. We anchored overnight in Tryphena, a small town on the south west of the island. Again, not much happening there, so planned to head to Waiheke island next.
---