Sailing into New York City

Lynn & Mike ..around the world
Mike Drinkrow & Lynn v/d Hoven
Mon 19 Jul 2010 14:04
40:47.15N 073:59.17W Sailing into New York City
On Monday morning we headed up the New York bay towards Manhattan – very excited about the trip ahead. We were aware that we may encounter strong currents and lots of commercial vessel traffic – and knowing that New York City is a highly sensitive security area we were also expecting to be boarded by the coastguard. ... but in the end, we had no hiccups at all!
New York City with over 8mill inhabitants is made up of five boroughs, The Bronx (red), Brooklyn (yellow), Queens (orange), Staten Island (purple), and of course Manhattan (blue). It runs South West to North East and is bound by two rivers, the Hudson on the left and the East River on the right.
As we motored past Staten island we had to avoid a few anchored tankers, before crossing under the bridge at "The Narrows". This 65m high bridge is the gateway to New York City as you sail in.
We could now see the skyscrapers of Manhattan in the background – what an amazing sight. The bright orange ferries from Staten Island were passing on our left, a tug or two on our right, and soon we could see the Statue of Liberty ahead. What an great way to see her! This 46m high, iconic symbol of liberty was designed by Frédéric Bartholdi, and given as a gift by the French to the American people in 1886. The reason she is green is that the steel structure is clad in copper, which has oxidised.
Next we passed Ellis Island – the building where all the immigrants into New York were "processed" between 1892 and 1954. The busiest year was apparently 1907, when over one million people moved through here!
And then we were going up the Hudson River, with New Jersey on our left and the giant skyscrapers of the south end of Manhattan on our right. Sadly, we noticed the 'hole' in the city, where the Twin Towers used to be.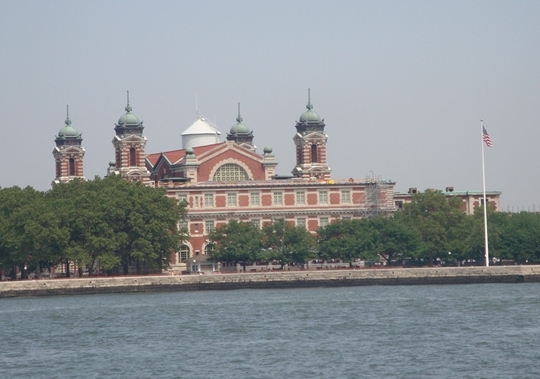 Our destination was 10kms up the Hudson to the 79th Street Boat Basin on the upper west side where we are spending two nights.
What an incredible morning this was!
---