Newport

Lynn & Mike ..around the world
Mike Drinkrow & Lynn v/d Hoven
Sat 31 Jul 2010 01:56
41:28.85N 071:19.48W Newport, Rhode Island
Sailing from Block Island to Newport, Mike had a great run of fishing. In the space of a few minutes he managed to land 3 Blue Fish, which are similar to our Shad/ Elf. The only reason he did not catch any more is that our freezer was full.
We rounded the point into Narragansett Bay en route to Newport Harbour, passing some magnificent homes and hotels on the bluffs. And then we reached Newport, the bay is filled with yachts - (real ones..with sails) - on anchor, on mooring balls and at the marinas. There are yachts everywhere! No wonder Newport is regarded as the sailing capital of the east coast.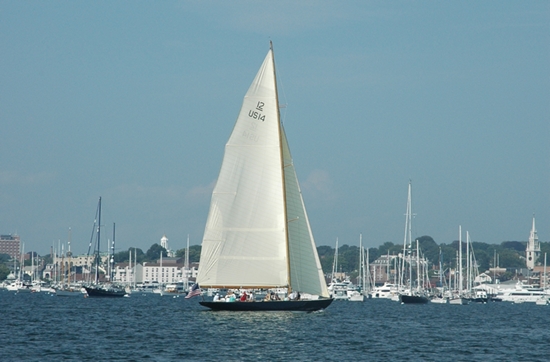 We managed to find a place to put down our anchor - which we had to adjust after a 180 deg wind shift in the middle of the night. Most people choose to go on a mooring ball, but we could not find one for Indigo - too many boats, and because we are a catamaran, need a bigger space than average. Catamarans are not that common up here, although we did see two Gunboats. Once again we saw the super yacht JeMaSa ... and could not resist asking one of the crew if the owner was South African. He laughed.. telling us that the owner was American, but that he was one of 5 South African crew on board, who has often laughed about the name.
We enjoyed a day walking around town, and even managed to do some grocery shopping. Next stop is Stonington, CT.
---