South to Mackay

Lynn & Mike ..around the world
Mike Drinkrow & Lynn v/d Hoven
Wed 21 Oct 2015 18:29
21:06.71s 147:13.62e South to Mackay
From Magnetic island we headed to Cape Upstart for the night and then on to Stonehaven, Hook Island, in the Windy Whitsundays (as I like to call them). Next morning we took the Whaler (tender) out, for a trip around the area. Too rough to snorkel, so went to check out the tiny harbour at Hayman Island, where the rich and famous like to play; pay and stay, at the One&Only Hotel. Guests are brought to the island by helicopter or float plane. The one below is a De Haviland Beaver, that lands in the bay and then taxi's into the harbour and up a boat ramp to disembark the passengers.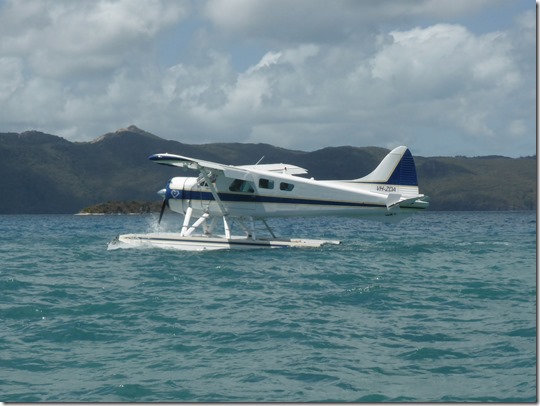 Landing Taxi'ing up the boat ramp

Small beach at Black Island in the Whitsundays
From Stonehaven we moved to the protected Cid Harbour, which was full of boats hiding from the wind. Not much to do there, so we decided to continue south the next day to Goldsmith Island, that has a pleasant anchorage. Saturday was a short but rather unpleasant 30nm to Mackay Marina, with wind on the nose and a very short chop. The marina was full of yachts trying to get south, waiting for a weather window.
The good news about being stuck in Mackay marina, was that we had TV reception – and could watch the Rugby World Cup, albeit at 1am in the morning, Happy that the Aussies and Springboks are through to the semi-finals, but very worried about our game against the mighty All Blacks next weekend.
At Mackay, we had a good time meeting old and new friends. Spent the day in town with Deb and Bryan (sv Back Friday), which was a good laugh.
Deb trying on all kind of weird shoes Finding a favourite bottle of bubbles at Dan's
On Tuesday I was very excited to find out that sv Desiderata was arriving from Vanuatu, with Ben and Cheryl-Ann on board. I had met Cheryl-Ann last year on an Australian internet sailing group, where we discovered that we both came from Durbanville – and have been corresponding ever since. Last year they bought a yacht in the Caribbean and sailed it to Panama. This year, Ben did the 50 day non-stop trip to Vanuatu alone (major respect!!) She then joined him for the last leg back to Mackay their home port. It was wonderful to finally meet them.
Cheryl-Ann and Ben having dinner on Time 2
Finally the weather was clearing and we could leave at first light on Wednesday morning. Sadly that was not to be, as a spare part that we had ordered on Monday (via overnight courier), did not arrive on Tuesday. After many phone calls and a very frustrating morning, watching all the other yachts leave, we finally got the parcel and were able to leave at 12.30 on Wednesday. Mike caught a large Spanish Mackerel quite quickly and immediately prepared it for our lunch.
This coastline has a few good overnight anchorages, but none that we could reach before sunset, given our late departure. We therefore decided to continue on, and I am now on watch (4.15 am) as we cruise down the coast. I have a faint internet signal, so hope this blog page loads.
We had to do a small dog-leg detour earlier, to avoid a military zone, where they are conducting some exercises as the moment. Luckily all the information is readily available on the internet and at the marinas. This is the zone we had to avoid, as we came south-east across this area.
Our next planned stop is Pancake Creek – should be there before 5pm Thursday.
---