Mackay to the Whitsundays

Lynn & Mike ..around the world
Mike Drinkrow & Lynn v/d Hoven
Sat 21 Jun 2014 07:50
20:04.76s 148:52.65e Mackay to the Whitsundays
From Mackay we headed 40nm NW to Shaw island, which is another uninhabited National Park island. We had a peaceful few nights there before heading up to Airlie Beach. Airlie Beach is the hub on the mainland for the Whitsunday islands. We anchored off Abell Point marina – where we found a good public dinghy dock and easy access to town. We had to have our canvas bimini cover repaired that had been damaged in the strong winds in Mackay. Again we were impressed with the efficient and friendly service on local contractors, with the job being done very quickly. Putting the bimini back, which involves replacing a very long border was a bit more of a challenge. Both Mike and I were quite stiff from having our arms above our heads for a few hours.
In Airlie Beach we took a walk down to the Whitsunday Yacht Club – where we enjoyed cold beers and their lovely view over all the yachts. The pic below is taken from the other side of the bay.
From Airlie we headed 15nm east, to Stonehaven Bay on Hook island, one of the bigger Whitsunday islands. The National Parks board have mooring balls in many of the anchorages, which are free to use. You are only supposed to stay on the balls for 2 hours at a time, but if you arrive late in the afternoon, it seems totally acceptable to stay on the ball overnight. This is a great, free service – there to protect the reef, and save us the hassle of putting down the pick at night.
Our other project was to get a replacement Tilley hat for Mike. Luckily he has 2, but the one has now totally disintegrated. As the hats come with a lifetime guarantee, we have now contacted the owners in Canada, and sent them pictures of Mikes' hats, as they have travelled the world. Hopefully a new one, is now in post on the way to Australia. See the pic below for the state of the poor hat – it had a good life.
The weather on the weekend was great and so we headed over to a long sandbank/ day anchorage at Langford island. While taking a walk on the beach Mike found this giant clam shell - at high tide, most of the beach disappears.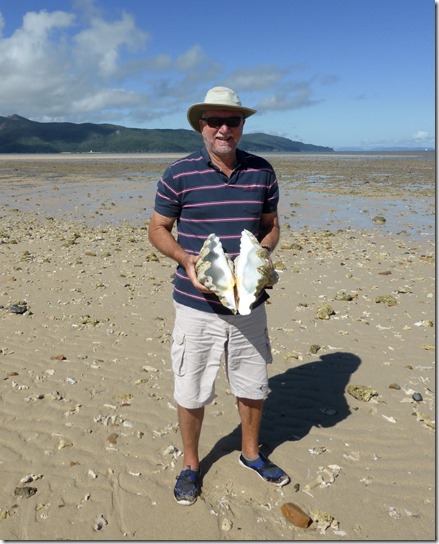 This is a map of the Whitsundays – the area where we will be sailing for the next while. Monday we pick up Mike's brother Steve, who will join us for a few weeks.
---