St Barths

Lynn & Mike ..around the world
Mike Drinkrow & Lynn v/d Hoven
Thu 5 Feb 2009 01:18
17:53.90N 62:51.43W
Saint-Barthelemy is a gorgeous island! Not only is it geographically attractive, with dramatic bays and magnificent beaches, but the buildings are quaint and the tourist development is quite a treat.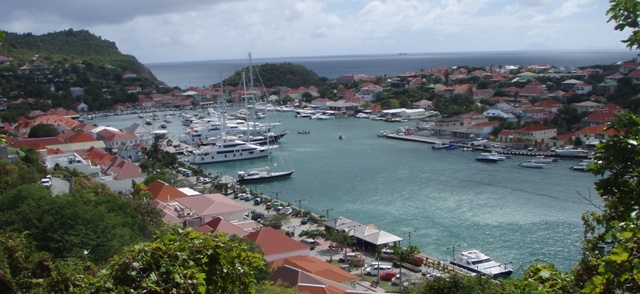 On arrival at the dingy dock, we noticed some disturbance in the water ... about 50 giant Tarpon milling on the surface of the water. While trying to understand what they were doing there, we noticed a fish-monger stand behind us. He then started throwing off-cuts into the water. These fish had learnt to come to this place at this time, to get the food. What a spectacle it was when he threw in the bits - they were literally jumping at the food.
Like the good tourists that we are, we spent our first evening at Le Select having beers and our "cheeseburgers in paradise". Jimmy Buffett allegedly wrote the song here!
Gustavia and St Jean, the two main towns, are a shopper's paradise .. that is, a shopper with a big budget! Here you will find boutiques from Chanel, Hermes, Longchamp, Dior, Max Mara, etc, etc. Even the souvenir shops are stylish and high fashion.
In addition to the shops, there are of course the fine restaurants, spectacular hotels & mega yachts – everything the high end tourist would need in a Caribbean island. While walking on St Jean beach, I spotted Donatella Versace strolling by in her bikini – amazing figure for her age, but not sure about that very dark tan or hair colour!
We hired a car for the day and drove around the island (does not take that long, as it is only 24sq/km). There are many scooters, quad bikes and jeeps for hire, but we took a more conservative little sedan, as the island is full of hills and narrow roads, so somewhat stressful to navigate. From the beach we watched the planes land on the famous downhill runway, that ends up right on the beach.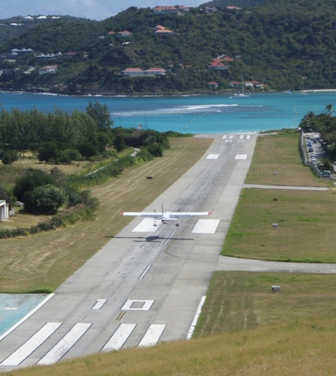 Our last night was at Colombier bay – a beautiful bay with coral reefs on either side. It is a marine park, with buoys for the yachts, which are free to use. Our superyacht neighbours did however have to use their anchors. One of these yachts, called "Klosters" was chartered by 6 women, who seemed to be having great time - perhaps a bachelorette party ..or divorce party? Amazing what you can see through a good pair of binoculars!

Our next stop is St Martin..
---