Cavelli Islands and Kerikeri

Lynn & Mike ..around the world
Mike Drinkrow & Lynn v/d Hoven
Wed 4 May 2016 04:51
35:00.45S 173:56.02E Cavelli Islands and KeriKeri
Taking advantage of some still weather we took a quick trip up to Cavelli islands, to see if we could find some Yellow Tail kingfish. While the fishing was fruitless, we had a nice walk on Motukawaui – again marvelling at the rich green vegetation in New Zealand. Mike forgot his hat, so we had to make a make-shift affair with my peak and a tissue! On the back side of the the islands there are a few "holes in the rocks". It was calm enough to take out dinghy around and then race though one of the holes. Quite exhilarating! We have been on the lookout for the tiny penguins here, with limited success, but to our surprize saw a seal, the only one in weeks, calmly sunning himself on a rock.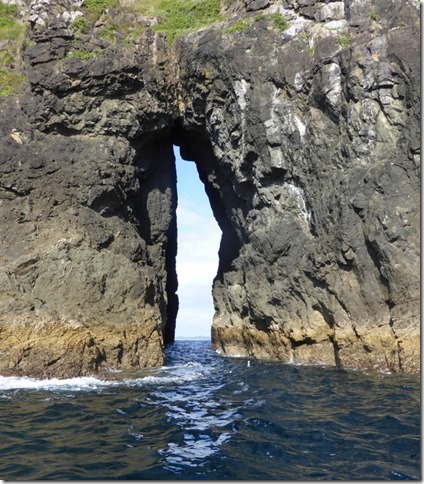 Raced through this hole Hello Seal!
Time2 far beneath us in the bay Not a good look!
Back in the Bay of Islands, we decided to head down towards KeriKeri. We went down the river as far as we felt comfortable, and anchored. Next morning we took the dinghy about 4nm upstream to a landing, from where we could walk along the river and then up a hill into town. KeriKeri is the biggest town up here in the far north, with a population of a little under 6000. We found a good supermarket and a great homestore that was having its annual one-day sale! Yay! new bedding, new blender and a new milk frother. Our trusty little "Rubber Dinghy Sithole" was loaded down for the trip back down the river.
Old Stone Shop – oldest store in New Zealand Landing along the river... no idea how the keel boats got this far!
---