Puerto Rico, before going home to Cape Town

Lynn & Mike ..around the world
Mike Drinkrow & Lynn v/d Hoven
Tue 24 Mar 2009 23:08
Indigo has been in Puerto Rico since late March. We had a few days on the marina in Fajardo before flying home to Cape Town.
Sunbay marina is on the north east coast near the town of Fajardo. I have been testing my Spanish pronunciations, remembering to roll my r's and that j is pronounced h ... so we are now in Fa-harrrr-do ! There are many marinas in this area including one that has over 1000 berths!. We chose a smaller marina with less facilities, but at half the cost, and with very helpful & friendly owners. Sunbay marina is a new facility, catering mostly for power boats and Mike was fascinated by the way they stacking the boats in open sheds.

Shortly after we arrived, we hired a car and explored some of the eastern region. Food is a major thing here, and we were keen to find out more about the interesting food you can buy on the side of the road. Our first stop was tent selling pastelillos, which is a thin dough filled with anything from lobster to chicken to cheese and then deep fried. I felt like a gypsy sitting under the tarpaulin on plastic chairs enjoying this snack which was not nearly as oily as you would imagine. Further south at Arroyo was a roadside barbeque where we had very tender chicken kebabs and ice cold beer. The "braai'er" was a very energetic showman, accompanied by loud local music - he was really enjoying this simple profession. In general we have encountered the friendliest and kindest people here. Nothing seems to be too much trouble or bother, and although many people are poor and we understand the crime rate is high, there is a very low level of aggression.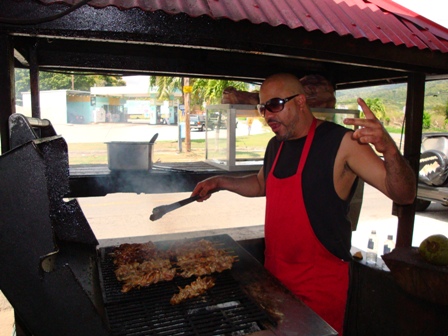 Next we headed up north through the forest towards San Juan, and perchance came across Guavate. A small town, with casual restaurants and bars on both sides of the road...and we heard music! It was a Saturday afternoon and the local people were enjoying themselves dancing and eating. There were live bands, stands selling crafts and more delicious food. Finally we had found the famous lechon asado which is pig on a spit, and what a treat that was - mountains of pork with thin crispy crackling! We passed on the blood sausage, cassava dumplings, plantains, yams and other weird tropical tubers. No wonder there are so many overweight people here... the street food is amazing!.

Our second day outing was to the old walled city of San Juan, which is one of the oldest capital cities in the western hemisphere. The story goes, that the port was originally called Puerto Rico (meaning rich port) and the island was called San Juan, but somehow that got mixed up! San Juan is dominated by two large forts (El Morro and San Cristobal) and the huge wall which surrounds the whole area of about 2 sqkms. The buildings have been beautifully restored and we enjoyed walking around. Ell Morro was built to repel attacks from the British, Dutch and French from its early beginnings in 1539, through many battles and building expansions to the final massive fort with 43m batteries that rise up from the entrance to the harbour. In front of El Morro is a huge grassed area where hundreds of families were picnicking with their children and flying kites.
El Morro Looking back towards San Cristobal
The American Flag flies alongside the Puerto Rico flag The San Juan gate

We left Puerto Rico at the end of March and spent 3 wonderful weeks in Cape Town. The main event was Mike's daughter's wedding, and also to catch up with family, friends and the building work that is happening at our home in Simonstown. The wedding as wonderful, the building work less so!
---