Winter in Georgetown Exumas

Lynn & Mike ..around the world
Mike Drinkrow & Lynn v/d Hoven
Tue 23 Jan 2018 01:22
23:31.35N 75:45.79W Winter in Georgetown, Exumas
On the 5th of January we decided that we would move south down the Exuma chain. The weather was very unstable so we started with a short hop to Black Point. And there we sat in the grim weather , bored out of our minds. By day three we had had enough, decided to head back to Florida,. We would rather spend the next two months on a marina in civilization than in this deteriorating weather. So we upped anchor and headed north as far as we could go before sunset, anchoring off Compass Key. I was furiously hammering away at the internet, trying to find us an affordable berth at a marina in Fort Lauderdale – which seemed to be impossible. The American economy is very buoyant, and people are buying and using their yachts! The next morning we had another "think on the matter" we so we turned around again – heading south to Georgetown. We at least had friends down there and there is a lot of activity with hundreds of boats spending the winter in the greater Elizabeth harbour.
A few of the close to 400 yachts in the area at the time
We managed to make good time down there and get anchored in a fairly decent spot near Monument Beach just after sunset. We stayed in Georgetown for 2 weeks enjoying the company of old and new friends, learning to play weird versions of poker (thank you Nina on svEnjoy) , doing morning water aerobics with a group of cruisers, taking hikes and trying to make the best of the blustery rainy conditions. We finally got to have a good catch up with Bill & Dorrit on Cantina – whom we met in Panama, Suwarrow and spoke to briefly in Nassau last year. They were heading to St Martin. We also got to meet Amy, wife of David (mv Intrepid), who made us a delicious meal of black Cod and Alaskan salmon.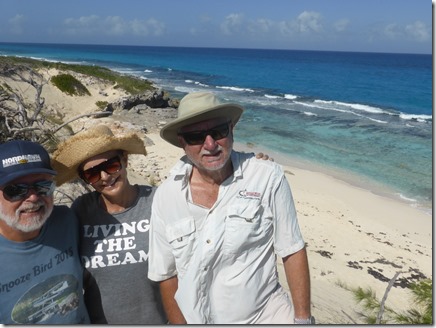 Hiking with David and Amy
One morning I returned from water aerobics to find Mike and Alan (AlleyCat) planning a trip to Long Island. It was the first nice day in ages and there were 5 yachts that wanted to do the 30nm trip over to Calabash Bay – word was, that they had great conch fritters and Bahama Mama's. I was hardly out of my wetsuit and we were off. As we headed out, I hauled out the chart to see where we were going and looked at Active Captain's comments on the anchorage. Mmmm ... not sure this was a good idea, and then there was this lazy long swell. Anyway, we arrived in this beautiful shallow bay, immediately headed to the bar and had the promised conch fritters (fair) and the Bahama Mama's (excellent cocktails). As dark approached we all dinghied back to our respective yachts. By now, the wind direction had changed, but not that long lazy swell – the two were at right angles to each other. Oh boy! That night, Time2 rolled like she has never rolled before – it felt like gunnel to gunnel – but probably not. It goes without saying that we did not have much sleep and so at sunrise we upped anchor and left our catamaran friends, (who all slept well) and headed back to GeorgeTown.
There was another storm brewing – and while we had ominous black clouds behind behind us, we had sunshine in front. Its as if the pics are inverted!
Back in Georgetown the weather continued to be grim, but company remained good. Our minds were also caught up with the decision of where to leave Time 2 while we went home for my brother Ian's 50th. The plan had been to go to Puerto Rico, but we are hearing bad reports on the situation post hurricane Maria, particularly with regards power. We do not want ot leave Time2 on a dock without power.
---