Great fishing at the outer reef

Lynn & Mike ..around the world
Mike Drinkrow & Lynn v/d Hoven
Wed 3 Sep 2014 04:35
18:30.90s 147:07.85e Great fishing at the outer reef
On Monday morning early we headed out to the outer reef, about 45nm NW of Townsville. We were following our friends on Myrtle (N57) who know this area well. The outer reef can only be visited in perfect conditions, as there is no land, just the odd bit of reef that sticks out at low tide.
The rods on both boats were immediately out and the competition was on! When we reached the reef in the early afternoon, Mike landed a very nice Mackerel. We continued to troll around the reefs for a few hours, but nothing more was landed, except shark mackerel which is only good for bait. We then found a beautiful calm anchorage between two reefs and put down the anchor for the night. We had invited Mark, Terra and baby Lachlan over for dinner, and while I was getting things ready, Mike put a line over the back of Time2. Bang, bang, bang..he had hit a "gold mine" ..in a very short space of time he landed a few Yellow Sweetlips, including one that was just a head, as the body had been taken by a shark.
When Mark arrived for dinner he could not believe Mike's luck, so immediately went back to his boat to fetch his rod. While Mike cooked the fish, Mark too had great success , landing a good few reef fish. It was a very happy dinner table!
The next morning, Mark and Mike took the tinny out to a Bommie (big coral head) and again had great success, landing Coral Trout and Red Throated Sweetlips. The water on the reef was perfectly flat, crystal clear and about 24deg C – so I used the opportunity to do some more cleaning of our waterline and hull. As our anti-fouling paint is a little long in the tooth, we are trying to keep the boat clear of barnacles, slime and the grass that seems to grow on the boot-stripe. Its quite a job, best done with a scraper and a broom, but I welcome the exercise. I have been very sedentary over the last few months, and have missed being able to swim in warm water.
Once all the fishing was done and the freezers well stocked, it was time to go to another reef, to snorkel. This one, called Little Kelso, is in a no-fishing area of the reef, so there is lots to see. We all got in the water and enjoyed swimming and trying to take photos of the fast swimming reef fish.
With some bad weather heading our way it was finally time to head back to safer waters. We said goodbye to our generous friends on Myrtle and headed back to Palm Island for the night. Once this weather passes we will head up to Cairns.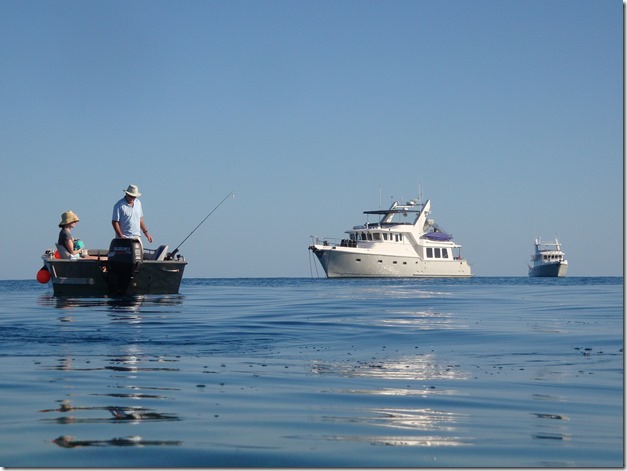 Flat water at the outer reef Mark, Terra and Lachlan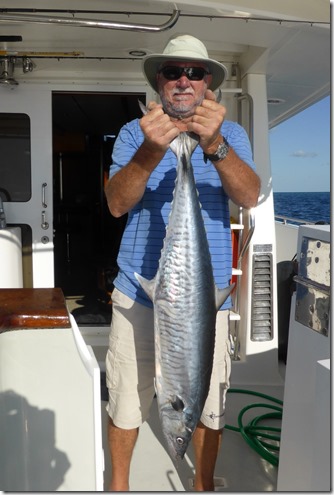 What a good couple of days fishing that was!
Great to be back in the water again
---