Juno Bay to Cairns

Lynn & Mike ..around the world
Mike Drinkrow & Lynn v/d Hoven
Tue 9 Sep 2014 07:28
16:55.15s 145:46.89e Juno Bay to Cairns
After overnighting in Juno Bay again, we headed out on the 4th for out 140nm trip up to Cairns. A short distance compared to our passages last year, but still we take it easy, enjoying the leisurely daily hops. The first night, we stopped at Dunk Island, a small resort island that was also badly damaged by Cyclone Yasi. The resort is still closed for renovations, but there is a jetty and a pleasant beach to stretch your legs. We met a man on the jetty fishing, he had kayaked up from Mackay... about 300nm away!
From Dunk we headed up to Fitzroy Island, another small, but this time thriving resort island, only 17nm from Cairns. In addition to the small resort, there are many day visitors and campers that arrive by ferry, and a decent restaurant & shop that caters to all. The beach is quite unusual in that it is made up of pieces of dead pure white coral, that still need a few hundred years to be ground down into soft beach sand.
Dunk Island – resort trashed by Yasi Fitzroy Island coarse coral beach
Next day, we headed into the Cairns Marlin Marina – sited up the river, and close to the centre of the city. Cairns does not have a beach, as the mud flats dominate the waterfront area, for this reason a channel has been dredged up the river, that caters to large ships. Downtown there is also a huge public swimming pool area – beach style - has been built for the public to enjoy. Once again I am impressed by the very nice, free public facilities available to the Australian people. The marina is in a great position, surrounded by parks, walkways, shops and restaurants. It is busy here, with many day boats taking tourists on snorkelling and diving trips to the offshore reefs. The weather up here is now significantly better than further south. The wind has backed off and temperatures are much higher. Yay ... I feel a tan coming on!
Our neighbour on the dock – great marketing, sells a lot of prawns! How you shop when you don't have a car
On Tuesday we took a real touristy excursion, taking the Skyrail cable-car to Kuranda. This 7.5km trip takes you high over the Rainforest, giving a stunning view of the forest and surrounding areas, including the Barron Falls. At the end of the Skyrail is a fairly quaint village, but filled with tourist-trap type shops. We had an appalling lunch (less said the better) and then headed down to the railway station to take the train back to Cairns. This narrow gauge railway was built in the late 1800's to service the bustling mining industry and is quite a feat of engineering. There are 15 hand built tunnels, 55 bridges and a lot of curves, meandering down the 37 kms to Cairns. A very relaxing and scenic way to end the day.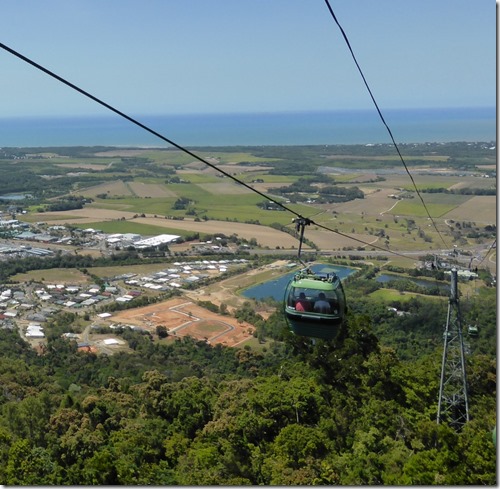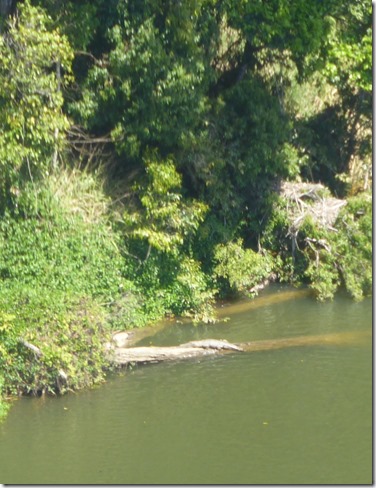 SkyRail, heading up to the forest Can you see the croc on the log ?
Lots of Aboriginal Art in Kuranda... but no sign of any Aboriginal people
Kuranda Station One of the bridges
Today we are heading back out to the offshore reef, and will then spend next weekend in Port Douglas.
---