Waiheke to Great Mercury Island

Lynn & Mike ..around the world
Mike Drinkrow & Lynn v/d Hoven
Sat 17 Dec 2016 21:27
36:36.32S 175:47.60E Waiheke to Great Mercury Island
Our last day on Waiheke Island, we spent at Man 'O War bay – right in front of the vineyard tasting room. This wine farm covers about a fifth of Waiheke island and has numerous small vineyards scattered over its land – with at least 15 different varietals. We dinghied in and enjoyed the wine tasting and then a light lunch platter on the veranda. Poor Mike, forced to drink wine .... luckily we just had a glass each, as a bottle was $60+
When it was time to go – we realised we had underestimated the size of the tide. Luckily, Rubber Dinghy Sithole has wheels!
Next morning we headed east and over the top of the Coromandel peninsula and anchored overnight in Kennedy Bay. The weather was snotty, gusting to 35knots again and we did not do to shore.
But what a difference a day makes! Next morning was gorgeous, so we motored over to Great Mercury Island, and anchored in the very scenic Coralie Bay. As we entered the bay we noticed many crayfish buoys and hundreds of huge purple jelly fish.
This island privately owned, but open to the public. It has a huge pine plantation, a sheep farm and two luxury homes, that can be rented for NZ$ 20 000 per day. I also read that in 2009 a sub-orbital rocket was launched from this island. Interesting place, but we focused on the bay and beach, enjoying my full on first suntan in New Zealand.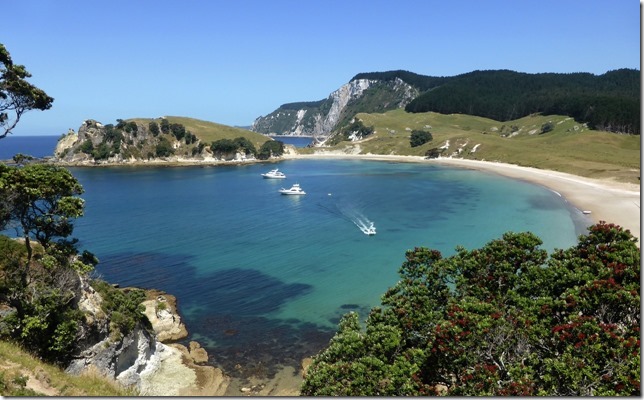 The Pohutukawa trees are in bloom all over the country – and there was a beautiful display here. The island also features some very dramatic cliffs on the eastern side.
and one last pic of the bay, and over to farm and in the distance, the Coromandel peninsula.
---