Lachlan's Island - smallest island ever

Lynn & Mike ..around the world
Mike Drinkrow & Lynn v/d Hoven
Sun 28 Sep 2014 03:19
18:30.92s 147:07.86e Lachlan's Island – smallest island ever
We now headed to Backnumber's reef, a little closer to Magnetic Island. We had another beautiful calm day, and this time no-one was ill. Mike banned all computer games and milky drinks, and it seemed to have worked. The kids were very keen to swim, but nervous of the deep water. I then remembered the tiny sandy bank that only raises its head at low tide, fondly referred to as Lochlan's Island, after the intrepid sea-going baby on mv Myrtle.
Our timing with the tides was perfect, and shortly after anchoring we were able to head over to the bank – which was great fun, and the children were able to do a little snorkelling. Within an hour the island started shrinking and disappearing under the waves, and we had to head back to Time2. It is hard to believe that such a bank can exist, so so far from any "real" land.
Mandy, Martin, Kate & Ryan Mike and I with the trusty Whaler
Mike having a "Robinson Crusoe" moment
It was another perfect sunset, and of course the guys cast a few lines off the back of the boat, and landed a lovely Sweetlip. Martin seems to be turning into a regular "viskop", just like his father!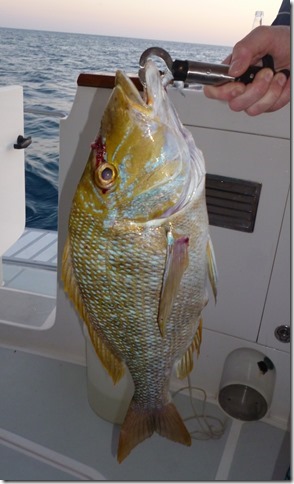 Sunset Another one for the pan
The next morning, we headed back to Magnetic Island. We would spend a day or two in Horseshoe Bay and then head back round to the marina at Nelly Bay, so that guests could catch the ferry back to Townsville and then fly home to Sydney.
---