Last stop ...Washington, DC

Lynn & Mike ..around the world
Mike Drinkrow & Lynn v/d Hoven
Sun 31 Oct 2010 10:36
38:51.75N 077:00.79W Washington, DC
Last night we arrived in Washington, DC - the final stop in our journey with Indigo. The wind had dropped significantly and we motored most of the way. As you get closer to Washington, the river gets much narrower and we could enjoy the spectacular autumn colours of the trees. Some consolation for the icy weather!
Just outside the city is a large, new bridge - the Woodrow Wilson - which was not detailed in our guidebooks or on our charts. Cliff assured us that the bridge was 85ft high, but as we got closer, we got nervous. The signs on the side of the bridge suggested 74ft. We could not get in touch with the bridge tender or any officials and so proceeded with extreme caution and held out breath. As we went under the bridge, I took this photo, relieved that we had not hit!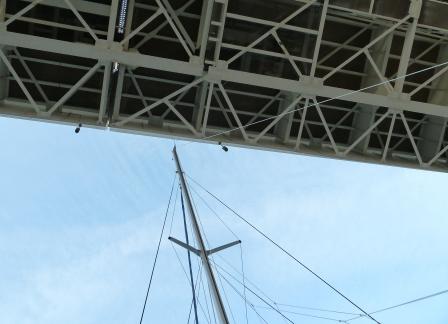 As the sun was setting, we arrived at the marina that Cliff had reserved, which was a disaster. The wind was very strong, and the structure was in appalling condition - there was no way we were tying up Indigo in a dangerous position. Luckily we were able to get a slip on the marina next door, and in difficult conditions, like a true expert, Mike parked Indigo perfectly ....for the last time.
The next morning the broker, bank official and notary arrived to do the final signing of all the documents, and then it was all over. Indigo who had taken us safely for so long, to so many amazing places...all the way from Simonstown in 2008, across the Atlantic to Brazil - up to the Caribbean and through the Bahamas, up the east coast all the way to Newport and back down to the Chesapeake was now leaving us... or, more accurately, we were leaving her. It was a very sad day.
Mike had seen her built, had fitted her out, sailed her for 7 years. He has known every last inch of her, fixed and serviced her, sailed her in good and bad conditions, lived on her, now had to say goodbye. As tough as he is, there were more than a few tears.
Mike says a final goodbye
On a happier note, our journey is not over. We now have a new boat, a beautiful Nordhavn 57 called Time 2, in Florida. After our trip home at the end of 2010 we will restart our journey in March 2011.....going around the world..or something like that.... I will keep you posted on a new blog!
---