California - the road trip

Lynn & Mike ..around the world
Mike Drinkrow & Lynn v/d Hoven
Sun 20 Jun 2010 17:07
A road trip through southern California
Mike and I have just returned from a whistle-stop visit to California. From the heat and humidity of Florida we were to be plunged into some cold weather - fog, wind and jackets!
We flew from Fort Lauderdale to San Diego, the southern most city in California. We had ordered a regular rental car, but when we got there, a stunning silver Ford Mustang was parked outside, and Mike decided to up-grade, and enjoy the pleasure of a powerful convertible.
After lunch we took a drive over to Coronado, a large island in the bay that has pretty homes, more marinas, a beautiful old hotel and the naval base. Our new talking Garmin GPS was only beginning her work!
The Mustang Marina view with the US Reagan passing by
Our hotel was north west of the city on a marina catering for both commercial fishing and pleasure boats. San Diego is truly a city of boats, with extensive marinas all over the bay, and a very heavy navy presence. This is the home of the pacific fleet and three huge Nimitz class air-craft carriers were in the bay. These nuclear submarines are over 1000 ft long and theoretically only have to re-fuel every 20 years!.We took a tour of the older carrier, the USS Midway, now a museum ship - walking around her 4-acre flight deck was quite incredible. Many of the guides are veterans from the original crews and are still enthusiastic about their vessel.
Back deck of the USS Midway Mike in front of 'the island' - the flight control centre
North of San Diego are a series of surfing beaches. At Mission Beach we took a ride in an old wooden roller-coaster which had Mike quite terrified. We also watched guys surfing on an artificial wave - more like snowboarding on water - looks amazing!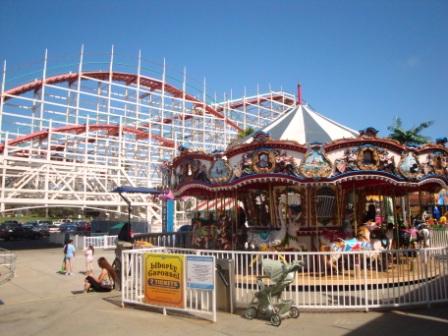 Our next stop was Dana Point, were we had a look at two Nordhavn trawlers - beautiful boats! Mike is considering selling Indigo and moving to a powerboat - but has yet to find the ideal boat. That evening my friends John & Laura joined us for dinner - they have two gorgeous little boys who were great to meet.
Laura, John, Luke and Bubs Huntington Beach
The next morning we drove further up the coast through Huntington Beach and Long Beach and then had to take a highway into the outskirts of Los Angles before we could head back north west. It was Friday afternoon and the traffic was HECTIC!!! We finally ended up in staying in a town called Buellton in the Santa Ynez valley. One horse town, not much to say about it.
On Saturday our first stop was the beautiful small fishing village of Morro Bay, before heading to the Big Sur. This is a famous scenic drive winding along the coastal cliffs, ending in Carmel.
Morro Bay The Big Sur drive
Carmel is a very wealthy and attractive town, where I was looking forward to a stylish lunch before taking the famous 17-mile Drive to Monterey. Carmel is know by many as the town where Clint Eastwood was the mayor! As we got there, we noticed it was very very busy and then discovered to our horror that this was the weekend of the US Open golf at Pebble Beach and not only was the coastal drive closed to the public but the whole area was totally congested.
So we turned around and took the freeway to Monterey, where we enjoyed a late but great calamari lunch on the waterfront. There is an old wooden boardwalk with many T-shirt shops & seafood restaurants - and just like Cape Town, there are lots and lots of seagulls and very smelly seals/ sea lions.
Monterey Boardwalk & marina One of the funnier T-Shirts
The rest of the afternoon was spent driving around looking for a hotel. We went up as far as Santa Cruz and then further inland - but the golf tourism had taken all the rooms in some hotels and the others had pushed their prices through the roof. I guess this is what tourists in South Africa are experiencing on a grand scale with the soccer World Cup! Eventually after another long and scenic mountain drive though a lovely wineland area, we ended up on the east side of Silicone Valley in a beautiful town called Los Gatos (the cats!) In true California style the town hosted a very big organic farmers market on Sunday morning, with magnificent fresh produce & flowers.
Los Gatos
Our next stop was to visit my friends the Wikmans, who live close by..
---