Gold Coast to Coffs Harbour

Lynn & Mike ..around the world
Mike Drinkrow & Lynn v/d Hoven
Mon 21 Mar 2016 02:42
30:17.78s 153:09.33e The Gold Coast to Coffs Harbour
We finally flew into The Gold Coast on Sunday 6th – after a rather unpleasant set of airline delays. South African Airways really excelled at poor delivery service, by bumping us off our original flights (for no good reason) which resulted in us having to delay our trip by 4 days. Our final flight out of Cape Town was also delayed, as was our JetStar flight from Sydney. Travelling by boat is so much more civilized. However, we finally made it back to Time2 where she had been well taken care of at Boatworks, up the Coomera river.
While getting over our jet-lag we managed to get a few projects done. Time 2 had been professionally polished (top-sides and hull), but the bimini cover had torn and so we had this replaced. The new cover is off white, to match the back bimini and made of the super strong Ferrari Stamoid. Mike also replaced the engine starting batteries, which also seems to have solved the very odd issue of the tripping transformer. Yay!
I went to pick up my new Dahon folding bike, to replace my 2nd hand Mexican one, that stood me in good stead for 3 years. The new one looks and drives great, but the quality of some of the components are rubbish, so not sure how long it will last. ;-( I am guessing that there are not too many people who are on their 4th folding bike.
We also started testing all our "passage making" systems and sadly discovered that our Satellite phone had died. After stressing out and driving around trying to repair/ replace the battery and charging, we finally just threw some money at the problem and bought a new Iridium 9555. That is now all up and running and will give us email and weather at sea again. For any of you reading this that have mailed us via Sat Phone before ... don't forget the RULES.... plain text, short messages only. PLEASE!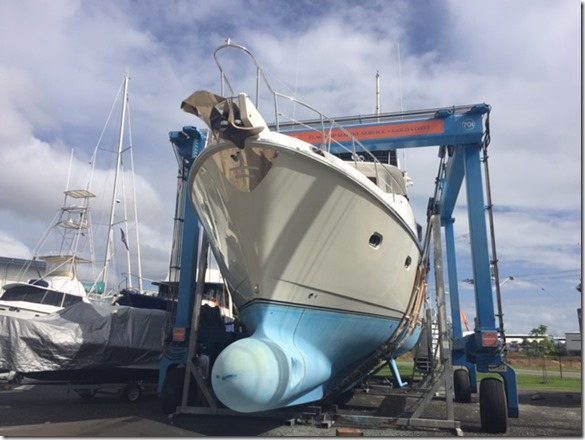 Nice and Shiny! Float plane lands right next to Time2 on the Coomera River
On the 12th we set down the Coomera river (at high tide) to anchor off the Spit in Southport, for two days before heading to Coffs Harbour. We had a good overnight run, pushed along by a good strong current. At one point we were running the engines at only 1000rpm, burning about 9l an hour and still running at 7.3 knots. The only reason we were going that slow, was that we did not want to arrive in the dark.
We are now tied up at the marina in Coffs Harbour – waiting for a weather window to get to New Zealand. The harbour is quite busy with fishing boats and there is a very convenient fish co-op with all kinds of lovely fresh seafood on sale, which we have enjoyed. The weather has been pretty blustery and rainy for the last week – with only a few gaps to explore. We did take our bikes out for a few runs – there is quite an amazing amount of land reclaiming, joining an island to the mainland to make space for the marina, and a huge outer breakwater has been built.
Aerial view of Coff's Harbour Cycling around
The huge concrete structures that are the base of the breakwater Shrimp on the barbie!
For the rest of the time we are doing chores, cleaning up and throwing out old junk. We are hoping for a weather window to open up at the end of this week, for the 7 day passage to Opua. We have contracted a very well-known Aussie weather guru (Roger Badham) to help us with this passage. Bad weather in the Tasman is to be avoided at all costs. We are also very happy to be joined by two Australian friends for the passage – more about Tony and Bryan later.
---