Arriving in El Salvador

Lynn & Mike ..around the world
Mike Drinkrow & Lynn v/d Hoven
Fri 6 Apr 2012 01:52
13:18.06N 088:53.52W Arriving in El Savador - Jaltepeque Estuary
After a 31 hour trip, we arrived in the mouth of the Jatepeque Estuary. We had decided to join the El Salvador rally, which is mostly boats travelling down from Mexico towards Panama. The rally is held at the Bahia del Sol hotel/ marina in the middle of Pacific El Salvador. We had to time our arrival just before high tide, as this estuary is protected by a shallow sand bar, with accompanying breaking waves! Just before high tide, there is a lull and an opportunity to safely cross the bar, riding in on the swells. We were met by the pilot and the organizer of the rally on a jet ski - who then guided us over the bar. It was quite exciting, with Mike steering madly as the swells pushed us around. But all went well and we arrived safely on the dock a few minutes later, but pumped with adrenaline.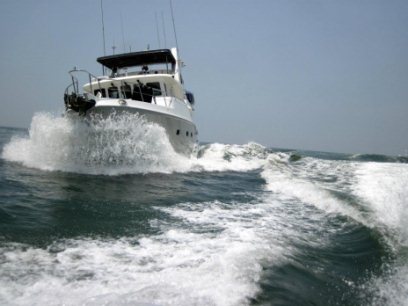 The rally is a lot of fun, with lots of daily socializing, including hours in the pool with sunset drinks! Most of the cruisers are American or Canadian on sailboats, so we are a little different.
Yesterday about 10 dinghies took a 6km ride up the estuary, through the mangroves to a smallish local town to get provisions. We went to their local market with lots of nice vegetables, and ...raw hanging meat ( luckily I did find some refrigerated chicken). The people here are very friendly and gentle, and we somehow got by with my few words of Spanish. We took a tuk-tuk back to the dock and then stopped off for some beers and tried the local specialty ..papoosas ... a small fat tortilla made of rice flour, filled with different things - we had cheese and beans. I liked it, but Mike was not sold on the idea. But the beers was fabulously cold and we had fun and some laughs with the other cruisers, as a mariachi band appeared. We are loving it here!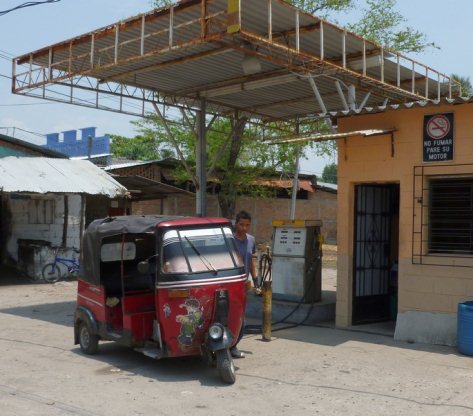 ---