Farewell Magnetic Island

Lynn & Mike ..around the world
Mike Drinkrow & Lynn v/d Hoven
Mon 12 Oct 2015 03:14
18:40.66s 146:30.58e Farewell Magnetic Island
It was a bitter-sweet farewell to Magnetic Island this morning. Very happy to be finally off the dock and on our way again, but sad to say goodbye to the friends we have made here. The weather has not been favourable over the last few weeks, so when a 2/3 day window opened, we decided to take the gap, and start heading south. We aim to be back in the Whitsunday islands by Tuesday night.
We first arrived at Magnetic Island in July last year – on our way up to the northern reefs, and would return here a few times, before deciding to leave Time2 at Maggie Marina for the cyclone season/ and our trip home in October. When returned in May this year, it was to be a short stop to get a few projects done, and then head up the coast. We looked at going up and around Cape York to Darwin, The Kimberley and beyond. Our alternate idea was to continue north to Papua New Guinea. As it panned out, none of that happened, and other than 4 weeks in July when we headed up to Port Douglas, Time 2 has pretty much been berthed at Maggie marina, or on the reefs close by for over 5 months. Keeping those engine hours down ..we have done under 900nm this year!
Magnetic Island, true to its name, has held us captive. We have been a regular fixture on the dock and known to all the regulars on the marina. We have once again enjoyed the company of our dear friends Mark & Terra, and watched their son Lachlan grow up with each passing week. We are going to miss this little guy!
Meeting boats & crew passing through has also been fun – Helen on Coomera; Jenn & John on Nyeki; Deb & Bryan on Back Friday; Chris & Ian on China Grove; David on Forte3, amongst others. We have also met quite a few other Maggie locals with whom we have enjoyed meals and quite a few beverages – Julie & Chris; Sharon & Stephen; and Graham. And of course appreciated the good work of the marina manager, Kerry.
I have done a lot of walking on the island and had my fill of an amazing array of flora and fauna. In addition to the wallabies, possums & koala – I have seen lots & lots of birds. Cockatoo, Kookaburra, Lorikeet, Black Swan, Curlew, Crows, Gulls, Shearwater, Heron, Kite, Osprey, Sea Eagle, Plover ...and more!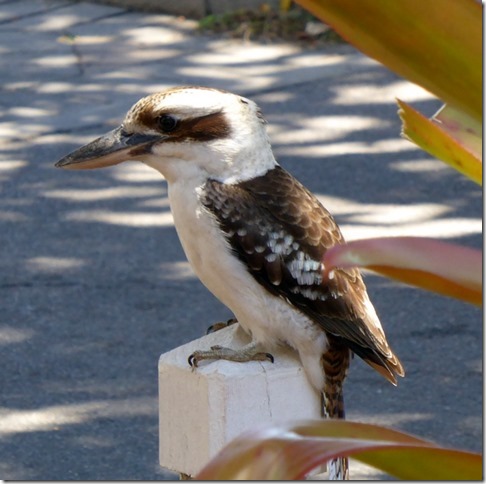 Koala sleeping in a tree Kookaburra
The last few weeks at Maggie have not been without excitement. There was the ridiculously painted (Brown!) superyacht Triple8, who managed to bash the dock pretty hard on parking. Then, to add to the captain's woes, Mike told him to switch off his generator as it was smoking us out. This 43m monster was then replaced by MyWay, a 33m catamaran, but with very friendly and expert crew.
Triple8 stealing our sunshine MyWay coming thru the breakwater
The biggest drama happened on Sunday night, when we had a fire and death on the marina. An older fishing type boat caught on fire with the owner asleep (drunk?) aboard. There were some explosions (gas bottles?) and another two boats caught fire. Sadly the result of all this was one sunken boat with dead owner still inside, one boat burnt virtually to the waterline and a third boat with less serious damage. This last boat had an owner on board and although he tried to fight the fire, eventually had to cut his lines and flee. Mike and I slept through the drama, as it happened in the early hours of the morning, the wind was howling and was on another dock.
Burnt out ski-boat Headline news
A shocking and sad way to end our stay at this lovely island.
.
---